We'll leave you a simple recipe and quick to make.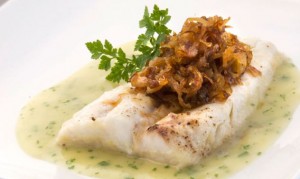 Ingredients:
1 whiting
Hortus Roasted Onion
2 potatoes
1 leek
1 glass of white wine
Salt, parsley and black pepper
Preparation:
Clean and chop the leek, put a jet of water in a saucepan and add the chopped leeks and potatoes. Season and cook for 10-12 minutes. Blend, strain and add the chopped parsley.
Season the fish, spread a little oil in a bowl, place the fish on top, pour a little oil and white wine. Bake at 200 ° for 6-8 minutes.
Make a bed with cream, place the whiting and on top the Hortus Roasted Onion.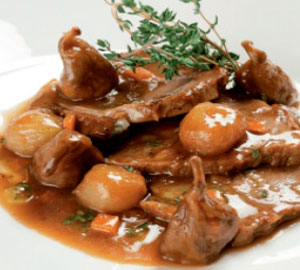 Now begins the season of figs, so, we present a dish made with this fruit and served with organic white onion "sofrito".
Ingredients:
1 cut round / 800 g veal

500 g dried figs

100 g Carrot

1 sprig of thyme

200 g of tomato

Stale wine 100ml

1/2 L of broth

Salt and pepper
To make the bite:
50 g of roasted almonds
1 cookie
2 sprigs of parsley
Preparation:
Roast the beef, seasoned to the pan or baking. Once very golden on all sides, add the head of garlic, cut tomatoes into quarters and carrots peeled and chopped into slices of 3 cm. Add, also, thyme and roasted onion. Leave it to cook for about 10 minutes and then you throw the stale wine. Let him reduce and add ye broth.

Let him bake three quarters of an hour, or until meat is tender. Remove yourselves meat and strain out the juice. Once the meat is cold Withdraw the thread, and reservadla cortadla.
You put the strained juice to fire again and add ye a snack made ​​with almonds and roasted peeled hazelnuts and cookie, along with the parsley.
Add the sliced ​​meat and let it warm up all together.
Put the figs, previously washed, blanched and let them cool in the same water, boil 10 minutes and let them take the strained juice before adding the meat cut.
Add 100 ml of white wine and let it simmer about 1 hour. Add the sliced ​​meat and juice and let it cook all together 5 minutes.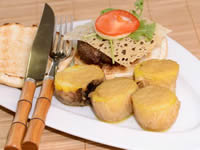 To bid farewell August, we recommend a barbecue this weekend … will delight young and old.
Ingredients:
4 Burgers 250 g each
4 Rolls Round
Grated Parmesan cheese
Roasted Onion ECO Hortus
4 new potatoes
1 head of garlic
Olive oil
Vinegar
Salt
Cumin
Coriander
Fresh Tomato
Arugula
Preparation:
First of all, place the grated parmesan on a grill tray on greaseproof paper and cook it on the barbecue covered about 200 ° C for five minutes.
Over time we remove the tray from the heat and let cool. Then, we have burgers on the grill, let it be marked and then, cover the grill for the meat is cooked through.Then wrap the potatoes in foil and introduce the coals for 20-25 minutes.
For the green sauce in a bowl mix garlic, salt and cumin. Incorporate vinegar, cilantro, oil and grind.
To serve  burgers on buns with some little spons of Hortus Organich Onion Sauce, with slices of tomato and a bit of arugula. Accompany mojo and potatoes.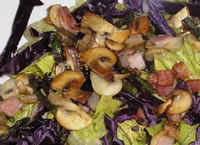 The warm touch of this salad makes delicious and complete aswell.
Ingredients:
A piece of julienned cabbage
Lettuce
Nuts
Fresh cheese
A few pieces of bacon
Mushrooms
Some asparagus tips
Cut the lettuce and cabbage and reserve. Saute the mushrooms and asparagus tips in the pan. Gilded bacon bits equally.
We make a vinagrette with:
Balsamic vinegar
A spoonful of orange marmalade Hortus
A pinch of salt
Olive oil.
The proportion of the vinagrette three parts oil to one of vinegar.
Stir everything and assemble our salad placing the hot components above with our vinaigrette.
Delicious.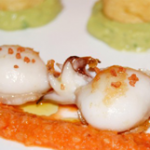 Today we have prepared these cuttlefish skewers with romesco sauce, accompanied by potatoes candied.
The cuttlefish skewers are easy to make and ideal for the summer, can be prepared in the kitchen of their home or at a barbecue, tasting is comfortable and exquisite to the palate. Mediterranean flavors, traditional and desirable always.
Ingredients:
12 small cuttlefish,
extra virgin olive oil,
fine sea salt,
red salt.
coriander
HORTUS Romesco Sauce
Preparation:
Prepare the skewers, for which only need to clean the cuttlefish and string them on a skewer stick, whether wood or stainless steel.
When the kebabs (must serve freshly made), put a little olive oil and make a grill over medium-high with a little salt, turning from time to time to that are made evenly, until tender and lightly browned.
Potatoes can be present in cylinders, as we have done and for which we used a pastry cutter, or cut into cubes (in either case, keep the potato cuttings to make a Parmentier). Put plenty of olive oil in a pan for frying. By having a significant thickness, previously should confit and when tender, fry over high heat to take a golden color.
To serve:
Serve on plates 3 ​​tablespoons HORTUS romesco sauce and placed on each cylinder of potato confit with a little Maldon salt and coriander leaves. Paint the plate with a generous spoonful of salsa romesco HORTUS and she places the cuttlefish skewer seasoned with a bit of red salt. It ends with a thread of olive oil on the skewer and add, if you want you dehydrated chopped black olives.