Our crops and other crops organic farmers manufacture a wide range of certified products: canned vegetables, sauces, culinary bases, jams, nuts, olives, extra virgin olive oil, creamed vegetables and baby food. Foods that we offer are the result of a rigorous homemade: traditional recipes, slow cooking, a selection of ingredients thoroughly.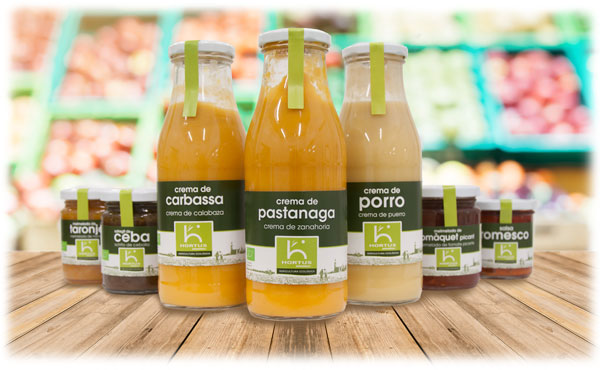 Marmalades, sauces, nuts, olives and extra virgin olive oil, all organic.

Organic spicy tomatoes marmalade 280 g
Organic orange marmalade 290 g
Organic white onion "sofrito" 220 g
Organic romesco sauce 140 g / 660 g
Organic "arbequines" olives 100 g
Organic extra virgin olive oil 250 ml / 500 ml
Organic ketchup 275 g
Organic tomato sauce "sofrito" 290 g
Organic pesto sauce 140 g

Organic creams

Organic leek cream 500 ml / 1 L
Organic pumpkin cream 500 ml / 1 L

Organic gifts

Organic tastings pack 160 g (4 units x 40 g)

Organic baby food

Jar of steak with organic vegetables 180 g
Jar of chicken with organic vegetables 180 g
Where can you find them?