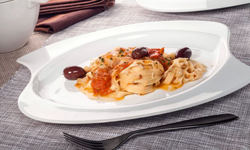 If you like cooking and you are on vacation can be a great time to learn how to make fresh pasta, natural and homemade.
Ingredients (2-4 people):
For the homemade pasta (you can also buy fresh pasta):
250 grams of flour
3 eggs
1 egg yolk
extra virgin olive oil
water
salt
For the sauce:
8 black olives
4 anchovies in oil
water
salt
oregano
parsley
HORTUS Spicy Tomato Mermelade.
Preparation:
To make the homemade pasta, place the flour in a bowl and add 3 eggs and 1 egg yolk and season. Add a drizzle of extra virgin olive oil and mix well. Knead with your hands on a floured surface until smooth and let stand for 30-45 minutes covered with a damp cloth. Stretch the dough, cut it into strips and put them to cook in a saucepan with plenty of salted water for 2 minutes. Drip them
To complete the sauce, add the anchovies, breaks-with a fork. Stir in olives and add some oregano. Mix homemade pasta with spicy tomato jam and add the grated cheese. Serve the noodles in a bowl and sprinkle with a little chopped parsley.
A good recipe, light and healthy …
Ingredients:
500 g of tuna
1 onion
1 glass of Albariño wine
3 cucumbers
1 zucchini
Oil
Salt
HORTUS Romesco Sauce
Preparation:
Mark seared tuna and remove when browned.
In the same oil fry the onion cut into strips. When browned, add the wine and let reduce Albariño.
Grilled Cucumbers: peel and cut like chips. Repeat with the zucchini. Cook seared on the grill.
Make a bed of onion for tuna and serve with the garnish of cucumbers and some HORTUS romesco sauce
A delicious pasta recipe perfect for summer where the main ingredient is tuna.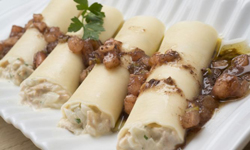 Ingredients:
16 sheets of cannelloni
200 gr. of tuna in oil
1 spring onion
1 tomato
3 pickles
1 egg
1 tablespoon tapenade (black olive puree)
water
extra virgin olive oil
vinegar
salt
parsley
Elaboration:
Put water to boil in a large saucepan with a pinch of salt. Bring to the boil, add the cannelloni sheets and cook for about 10-12 minutes. Take them out and drain on a clean tea towel.
To make the mayonnaise, put the egg in the bowl of the mixer. Add a pinch of salt, a dash of vinegar and 150 ml. oil (approximately). Enter the mixer arm, keep quiet and give up. When you start to flirt, move it upward and downward movements until completely flirting.
Chop the onion finely and place in a bowl. Add the mayonnaise and crumbled nice. Mix well. Fill the cannelloni and place in a bowl. Chop the dill finely and place in a bowl. Peel the tomatoes, and add diced Picalo.
Add the tablespoon onion tapenade to Sofrito HORTUS. Mix well and spread the mixture over the cannelloni. Serve and garnish with a sprig of parsley.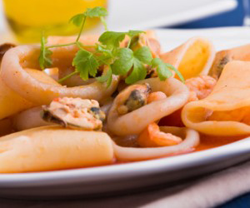 We bring a quick recipe that will delight the younger members of the house.
Ingredients:
400 grams. clean small squid.
2 tablespoons parsley.
Salt and pepper.
4 tablespoons olive oil.
1 teaspoon lemon zest.
HORTUS Romesco Sauce
Preparation:
In a skillet heat two tablespoons of olive oil and saute the calamari in batches until they are ready.Mix together the HoRTUS Romesco Sauce, the parsley, remaining olive oil, lemon zest and salt, pour this dressing over the cooked squid and finish with freshly ground black pepper.
Garnish to taste.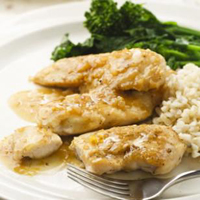 Orange marmalade HORTUS and freshly grated orange zest make a deliciously tangy sauce for quick-cooking chicken tenders. Serve with brown rice.
Ingredients:
1 cup chicken broth
2 tablespoons red wine vinegar
2 tablespoons orange marmalade Hortus
1 teaspoon Dijon mustard
1 teaspoon corn starch
400g chicken breast cut into strips.
1/2 teaspoon salt
1/4 teaspoon freshly ground pepper
6 tablespoons extra virgin olive oil.
2 large onions, chopped
1 teaspoon freshly grated orange zest
Preparation:
Whisk broth, vinegar, marmalade, mustard and cornstarch in a medium bowl.
Sprinkle chicken with salt and pepper. Heat 4 teaspoons oil in a large skillet over medium-high heat. Add the chicken and cook until golden, about 2 minutes per side. Transfer to a plate and cover with foil to keep warm.
Add the remaining 2 teaspoons oil and shallots to the pan and cook, stirring often, until beginning to brown, about 30 seconds. Whisk the broth mixture and add it to the pan. Bring to a simmer, scraping up any browned bits. Reduce heat to maintain a simmer; cook until the sauce is slightly reduced and thickened, 30 seconds to 2 minutes. Add the chicken; return to a simmer. Cook, turning once, until the chicken is heated through, about 1 minute. Remove from the heat and stir in orange zest.
Note: Chicken tenders are the virtually fat-free strips of rib meat typically found attached to the underside of chicken breasts. They can also be purchased separately. Four 1-ounce tenders will yield a 3-ounce cooked portion. Tenders are perfect for quick stir-fries, chicken satay or kid-friendly breaded "chicken fingers."
Recipe from EatingWell: http://www.eatingwell.com/