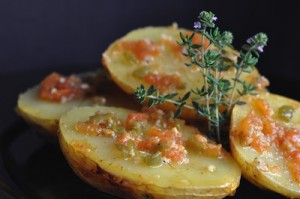 Today we offer you an old recipe, but we add a delicious innovation: the base of Hortus Onion Sauce.
In a mortar, chop the garlic with paprika and parsley. Then add the olive oil, two tablespoons of a roasted onion Hortus and let marinate while you prepare the potatoes.
In a large pot boil water and put the potatoes with skin, approximately 20 minutes or until soft. Once cooked, the drain and let cool a few minutes. Then peel them and cut them into slices 1 cm thick. Distributed in plates where we have.
The chopped, add the bread crumbs and the extensive carefully over the potatoes … Nothing, in 30 minutes we will have a good starter.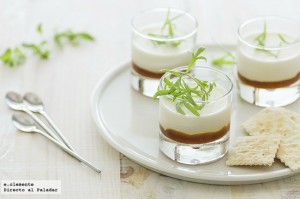 Ingredients:
100 g of Hortus Spicy Tomato Mermelade
125 ml milk
125 ml cream,
70 g finely grated Parmesan cheese,
1 g of agar agar, salt and pepper
Preparation:
Begin distributing the tomato mermelade in the bottom of the cups by a smooth layer.
Then put them in a saucepan the cream, milk and Parmesan cheese and agar agar, this I find in supermarkets or health food stores. We carry everything to a boil, stirring continuously with a whisk but slowly, trying not to make bubbles, let it cook for two minutes. Add a little pepper to taste and add salt.
Pour through a sieve the mixture spreading it between shots, we materialize a minimum of three hours. Serve chilled.
Recipe courtesy of Esther Clemente, Directo al Paladar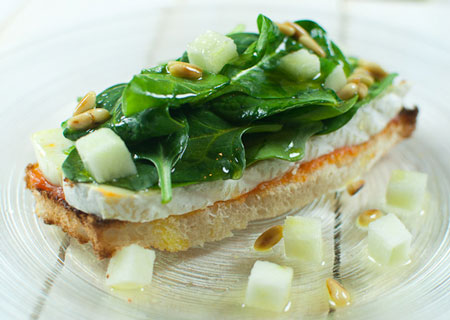 We present a fresh recipe for these hot days and already crave lighter dishes with our organic Orange Marmalade.

Ingredients (for 4 people):
4 slices of bread
250 g of brie
50 g of spinach
1 apple
60 ml extra virgin olive oil
10 ml apple cider vinegar
some toasted pine nuts
Mix the vinaigrette ingredients
Toast the bread and spread it with orange marmalade
Putting cheese, sliced ​​1 cm thick on bread
Heat the cheese toast in the oven for 1 minute
Add up the spinach and apple diced small
Dress it all with pine nut vinaigrette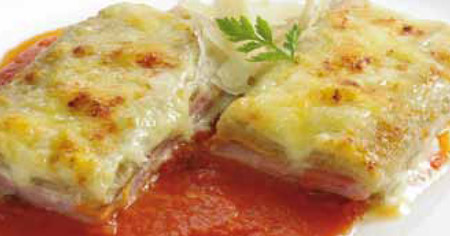 Os present using the chard stems that normally people do not know as you have to cook, you will obtain a dish very different and tasty with our Organic Spicy Tomatoes Marmalade.
Ingredients:
Chard stems (because out between 16 and 20 booklets)
4 or 5 slices of ham, a little thick
Manchego cheese 125g
200 ml of cream
2 eggs
Flour
Pinch of nutmeg
Extra virgin olive oil and salt
Preparation:
Cleanse the leaves, they have to be wide, taking care of them clean and cortadlas thread in the direction of the length pieces about 7 cm, you'll have to blanch.
Also you cut the ham to the same extent as the pieces of stalk, make ready the booklets. Flour and go through the egg and season, freídlos in hot oil.
Grate the cheese and then you put it in a saucepan the cream or cream, throw over a little nutmeg, add the cheese and removed removedlo very low heat.
To serve, you put the bottom of the dish a little spicy tomato jam and the leaves above batter and cover it all with the cream cheese. Serve him finish out the fire.
This dish can also be prepared and heat leaving the oven, or in another variant, the leaves filled with braised oxtail.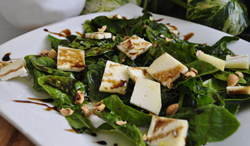 We present a prescription cold now that the good weather and you feel like it, with our organic toasted hazelnuts.
Spinach Sprouts
Cheese from cow
Honey
Extra virgin olive oil
Maldon Salt
Reduction Pedro Ximenez vinegar

 
Spinach outbreaks cleanse carefully dry them or do them to the dish that you have provided source serving, you cut the cheese into slices of medium thickness and place them over the spinach, chopped hazelnuts repartid also. Season with Maldon salt, Scatter a few touches of honey on top without going over, you put the oil and add ye to finish a few drops of vinegar.
Ready to serve, easy, healthy and fast.