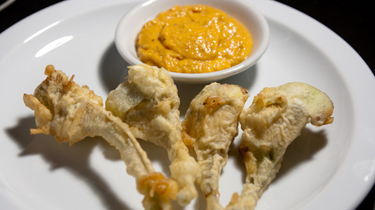 We present a dish and very easy to prepare artichokes that accompanied our organic romesco sauce you will be very good.
Ingredients:
Artichokes
Vegetable Tempura
Preparation:
Peel a little trunk until the white area exit , take the first leaves , the hardest and then divide it into 4 parts.
To prepare the tempura batter is follow the instructions on the package , in the proportion of flour and water to mark. Cold water, that if , and stir slowly and not excessively. Then spend the artichokes with the tempura in the boiling oil.
Once cool , we remove and put on absorbent kitchen paper.  And we are ready to present the dish with organic romesco sauce.
Extracted from: http://ow.ly/wtIJ8
Today we present a completely original dish that will bring color to your table, a good spinach pie served with our organic romesco sauce.
Ingredients:
½ kg. potato 

½ kg. carrot 

½ kg. spinach 

3 eggs 

75 g of butter 

Oil, nutmeg, salt and pepper 
Preparation:
Boil the ingredients separately. Add the raw egg, 25g butter, nutmeg, salt and pepper to each ingredient and make 3 purees.

In a mold to make a bath of mashed potatoes, a layer of spinach on top and finally mashed carrots.

Bake in a water bath (180 degrees) until set egg, and decorate the plate with organic romesco sauce.
Extracted from: http://bit.ly/1qZDLaP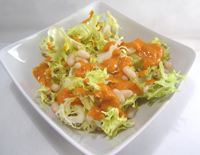 We present a very simple salad but with very good results, sauteed with our organic romesco sauce that adds a touch of good taste and color.
Ingredients for 2 people:
Preparation:
Clean the escarole and centrifuge well and place in a bowl mixed with baked beans and sauté with organic romesco sauce.
Extracted from: http://ow.ly/syLfc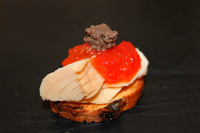 We present canapés made ​​in 5 minutes and they are very good. Our spicy tomatoe marmalade gives a touch of color.
Ingredients:
Albacore or tuna

Tapenade

Toast bread (can be homemade or purchased, the ones you like thin or thick with berries or raisins as photo)
Preparation:
Placed on top of each toast a piece of tuna over a spoonful of organic spicy tomatoe marmalade and finally a bit of tapenade.
Our couch is now ready!
Extracted from: http://ow.ly/skak8
We present a recipe that can be used perfectly for in these Christmas parties. We have used our organic romesco sauce.
Ingredients for 4 people:
8 loin cod

4 onions

Honey

Flour

Oil and salt
Elaboration:
Desalinating a cod with water keeping the refrigerator for 60 hours , water to change a couple times daily.

Cut the onion into strips and in a skillet over low heat, with a small stream of oil and a pinch of salt, let confitando stirring often. When you have picked a beautiful color we add a tablespoon of honey. More slowly when we do, the better the outcome.

We dried cod in paper towels, I floured and fried them in hot oil , starting with the skin side. After three minutes will turn and continue frying for a couple of minutes. We booked over paper towels because let excess oil.

To serve, place the cod over a bed of organic romesco sauce and crowned with caramelized onions.