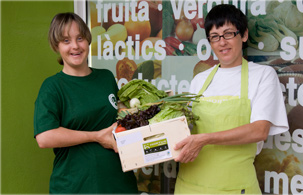 At Hortus shop we offer certified organic foods and products, fruits and vegetables, nuts, olive oil, cakes, jams and preserves.
As well you can find certified organic food from other producers: baby food, celiac, delicatessen, dairy, herbs, teas, pasta, vegetables, seaweed, juice, bread, organic meat, wonderful wines, etc.
In our store you'll find everything you need for a healthy and nutritious food for your family.
With your purchase of healthy foods and environmentally concerned, you are contributing to make possible employment and social integration of people with special needs.
Visit our store  in Montblanc:

Ver mapa más grande
Opening Summer Hours:
From Monday to Friday:
10.30 to 14.00 and 13.30 to 21.00
Av. Doctor Folch, s/n
Montblanc
Tel. 977 861 910
You can make your order calling 977 861 910, you can also send your order by email hortus.botiga@aprodisca.org
Where can you find the Hortus products?
Organic Products in our store of Montblanc:
Algae – Baby Food – Gluten Free Food – Snacks – Beverages – Meat and sausage – Cereals, flour and dried – Canned – Sweets, pastries and coffee – fresh fruit and vegetables – Nuts – Teas, herbs and spices –  Hortus Products – Dairy products and eggs – Oil and vinegar – Bread – Pasta – Precooked – Rice – Beans –