Today we present you a healthy sandwich made holidays chicken breast and our organic onion "sofrito".

Ingredients:
Ciabatta bread
1 chicken breast
1 head of garlic
1 tomato
1/2 cup chicken broth
Basil leaves and lemon thyme
Oil and salt
Procedure:
Roast chicken in a clay pot with a little oil. When browned add the roasted onion, head of garlic and tomato party involved.
Then stir in the chicken broth to prevent left parched and went controlling cooking until tender and well ready.
Crush the garlic pulp with a fork and mix with a little oil from the meat to make a sauce.
Once cold, the chicken finely laminated.
Assemble the sandwich in a piece of ciabatta, with a bit of garlic, some basil leaves, chicken, roast onion, a bit of roasted tomato and finished with lemon thyme leaves.
Extrated from: http://elsfogonsdelabordeta.wordpress.com/2012/05/13/entrepa-de-pit-de-pollastre-rostit/
Today we present a simple and delicious appetizer recipe is perfectly suitable for the celebrations.
Ingredients:
Bread
Intensely flavored cheese
Very small size tomatoes (cherry type)
Endive leaves
Procedure:
Cut the bread into slices about three inches thick.
Rub them with the onion.
Arrange the cheese on top generously cut very thin slices.
Cut the tomatoes into two pieces and garnish the dish with lettuce leaves.
Suggestion:
Accompany with a good aperitif wine or champagne..
The Organic Roasted Onion Hortus Aprodiscae cooked slowly roasting why go to get the onion sauce very tasty and aromatic flavor reminiscent of traditional roast grandmother.
Besides being the key ingredient in this thug is ideal for meats, chicken, foie gras, cheeses and salads. And to save time when cooking pasta, vegetables, rice, because we have a healthy and tasty sauce ready to add to the dish.
Bon appetit!
Check out this recipe to make a dessert for luxury and harness the Turron that has left over from Christmas. Organic ingredients and attitude!
Bon appetit!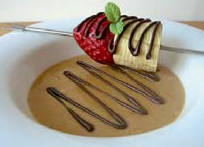 Ingredients:
150 g Jijona Turron
4 natural yoghurt
4 different fruit
Chocolate
Fresh Mint
Procedure:
Grate Jijona Turron.
Slightly warm yogurt and mix nougat.
Finish grind with the mixer until it is very thin cream.
Assemble the skewers with chopped fruit.
Spread the nougat cream dishes.
Place a skewer on each plate and garnish with a little melted chocolate and some fresh mint leaves
Check out this recipe for a healthy dessert.
This cup is still a simple yogurt presented in an original way. However, if you do not reveal the jam inside, your guests are sure to be pleasantly surprised and forget that it is only a yogurt
 Ingredients:
4 natural yoghurt
4 tablespoons orange marmalade Hortus Aprodisca
Fresh Mint
Anisos or grated chocolate.
Procedure:
Divide the yogurt into cups filling them halfway and leave them in the refrigerator for 10 minutes.
Add a spoonful of jam in each cup and fill them up with the remaining yogurt.
Garnish with fruit jam with a fresh mint leaves and / or anisos or grated chocolate.
Reserve in the refrigerator and serve chilled.