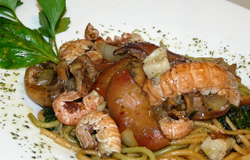 We present a recipe a bit laborious but lovely with our organic white onion "sofrito" as a base for the sauce of this dish.
Ingredients:
Preparation:
Wash, peel and cut the mushrooms into slices not too thin, too clean robellones, lobster tails and basil leaves.

Bring water to boil with a little oil, a little salt and a couple of bay leaves. When starting to boil put the noodles and cook for 10-12 minutes or

Chop some garlic and parsley, heat a little oil in a pan, launches the garlic and parsley and mushrooms, add a little salt and stir then put three tablespoons of roasted onion and quiet.

In the same pan, add a little more oil to the shrimp, dotted previously and then he made his point, foreign torraditas along with mushrooms.

Put the basil you have previously cut, but nothing, four courts, is the big leaf. Two minutes turning and throwing spaghetti, you throw a pinch of white pepper and remove the black and all good. They have to brown a little, add the mushrooms with crayfish and juices.

Serve with the spaghetti with prawns base above and mushrooms accompanied by a little chopped parsley.
Now has come the good weather … we present a spring salad very easy to do with our Organic Spicy Tomatoe Marmalade.
Ingredients: 
Mezclum
Goat cheese curler
Maldon Salt
Vinegar "Jerez"
Extra virgin olive oil
Nothing as simple as putting the washed and drained salad on the plate, add two slices of goat cheese on top of each put a teaspoon of organic spicy tomatoe marmalade. Season with vinegar, oil and some Maldon salt flakes.

NOTE: Mesclun is a salad mix and varied leafy lettuce, Lollo, chicory, endive, oak leaf, arugula, spinach … Amounts to taste the same as the dressing.
Now that it's strawberry season, we present a very original recipe with organic white onion "sofrito".
Ingredients (for 4 people):
600 g pork loin
200 g of strawberries
3 tablespoons of organic white onion "sofrito" HORTUS APRODISCAe
50 g of butter
50 g grain mustard
Vinegar 50 ml of strawberry
100 ml water
salt
Pepper
Extra virgin olive oil
To serve: salad and roasted potatoes
Preparation:
Generously seasoning the pork loin and brown on all sides in a pan with a little oil. Remove the meat, spread with mustard and roast in the oven for about 20 minutes at 190 ° C and during the last 5 minutes, add the tablespoon of organic white onion "sofrito".

Meanwhile, in skillet, reduce heat to very soft strawberry vinegar, water, honey and half the strawberry puree, stirring with a wooden spoon. When missing a few minutes to finish cooking, add the reserved strawberries and cook for another few minutes.

Cut the pork into thick slices and drizzle with strawberry sauce.

Serve on a bed of salad and served with roasted potatoes.
Extrated from: Mi receta de la revista Mi bebé y yo – Abril 2013
We present a traditional recipe for this time of Easter, made with our organic white onion "sofrito".
Ingredients (for 4 people):
Preparation:
Put the cod in water and when desalting enharinamos and put it in the pan, fry it and put kitchen paper to release the oil.
Oil in a pan will, we'll take the tomato, garlic and chopped small when the sauce is done add the two tablespoons of organic white onion "sofrito", let it be fried a bit and then put a little water.
Peel the artichokes and put them in water with a little lemon juice, the enharinaremos and put in a pan to fry.
In a saucepan over part will boil eggs and cooked when the pelaremos and depart in half, while in the pan will cod, boiled eggs that are halved, artichokes and peas cooked, it let it cook for fifteen minutes more, I'll try to see how salt is and if it is at an all we can assume.
Extrated from: http://www.receptes.cat/recepta1477/bacalla_de_setmana_santa
We present a recipe that you can use as you like best, such as breakfast, entree or dessert, served with our organic spicy tomatoe marmalade and organic orange marmalade.

2 natural yoghurts
Grains of wheat or other cereal
The assembly we do with a glass or a cup, put some yogurt, make a layer with spicy tomato marmalade and ended with orange marmalade.
Garnish with cereals.
This cup yogurt, jams and cereals is very simple but it is still a breakfast, entree or dessert delicious, refreshing and nutritious.
Extrated from: http://www.directodelnorte.com/recetas_mermeladas_4.html