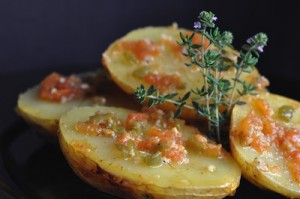 Today we offer you an old recipe, but we add a delicious innovation: the base of Hortus Onion Sauce.
In a mortar, chop the garlic with paprika and parsley. Then add the olive oil, two tablespoons of a roasted onion Hortus and let marinate while you prepare the potatoes.
In a large pot boil water and put the potatoes with skin, approximately 20 minutes or until soft. Once cooked, the drain and let cool a few minutes. Then peel them and cut them into slices 1 cm thick. Distributed in plates where we have.
The chopped, add the bread crumbs and the extensive carefully over the potatoes … Nothing, in 30 minutes we will have a good starter.