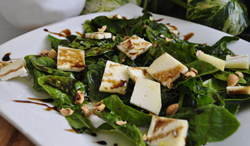 We present a prescription cold now that the good weather and you feel like it, with our organic toasted hazelnuts.
Spinach Sprouts
Cheese from cow
Honey
Extra virgin olive oil
Maldon Salt
Reduction Pedro Ximenez vinegar

 
Spinach outbreaks cleanse carefully dry them or do them to the dish that you have provided source serving, you cut the cheese into slices of medium thickness and place them over the spinach, chopped hazelnuts repartid also. Season with Maldon salt, Scatter a few touches of honey on top without going over, you put the oil and add ye to finish a few drops of vinegar.
Ready to serve, easy, healthy and fast.