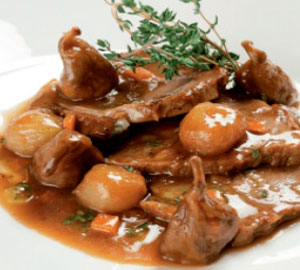 Now begins the season of figs, so, we present a dish made with this fruit and served with organic white onion "sofrito".
Ingredients:
1 cut round / 800 g veal

500 g dried figs

100 g Carrot

1 sprig of thyme

200 g of tomato

Stale wine 100ml

1/2 L of broth

Salt and pepper
To make the bite:
50 g of roasted almonds
1 cookie
2 sprigs of parsley
Preparation:
Roast the beef, seasoned to the pan or baking. Once very golden on all sides, add the head of garlic, cut tomatoes into quarters and carrots peeled and chopped into slices of 3 cm. Add, also, thyme and roasted onion. Leave it to cook for about 10 minutes and then you throw the stale wine. Let him reduce and add ye broth.

Let him bake three quarters of an hour, or until meat is tender. Remove yourselves meat and strain out the juice. Once the meat is cold Withdraw the thread, and reservadla cortadla.
You put the strained juice to fire again and add ye a snack made ​​with almonds and roasted peeled hazelnuts and cookie, along with the parsley.
Add the sliced ​​meat and let it warm up all together.
Put the figs, previously washed, blanched and let them cool in the same water, boil 10 minutes and let them take the strained juice before adding the meat cut.
Add 100 ml of white wine and let it simmer about 1 hour. Add the sliced ​​meat and juice and let it cook all together 5 minutes.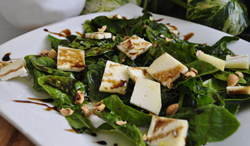 We present a prescription cold now that the good weather and you feel like it, with our organic toasted hazelnuts.
Spinach Sprouts
Cheese from cow
Honey
Extra virgin olive oil
Maldon Salt
Reduction Pedro Ximenez vinegar

 
Spinach outbreaks cleanse carefully dry them or do them to the dish that you have provided source serving, you cut the cheese into slices of medium thickness and place them over the spinach, chopped hazelnuts repartid also. Season with Maldon salt, Scatter a few touches of honey on top without going over, you put the oil and add ye to finish a few drops of vinegar.
Ready to serve, easy, healthy and fast.
We present a delicious dish with contrasts of sweet and savory, made with our organic spicy tomatoe marmalade.
Ingredients for 2 people:
Procedure:
The cod confit:
Place in a saucepan ½ liter of oil-only tour, bay leaf, pepper large.
Heat the oil until it begins to boil, wait about 2 minutes (and will have achieved the temperature of 100-120 ° C) and enter the cod loins.
Lower heat to medium heat and keep (the right is about 80 º C). Cod confit for about 15 minutes. Remove from heat and allow to cool in the same bucket.
The onion confit:
Peel and cut the onion into very thin julienne with a drizzle of olive oil onion confit over very low heat, and carefully stir continuously to prevent burning. Book.
The minced:
Bone the black olives and tapenade types trincharlas to them. book
Chop the hazelnuts to a fine mortar will have a fine paste, put it on a tray to go in the oven and roast for 2 minutes, until the temperature reduced to powder type.
Presentation:
Add the onion to the bottom of the dish, sprinkle over the toasted hazelnut poles, remove the cod confit oil and put it on top. Spread with tomato jam preheated and finally garnish with black olive tapenade.
Extrated from:http://www.receptes.cat/recepta3407/bacalla_amb_melmelada_de_tomaquet_llit_de_ceba_confitada_i_sorpresa_davellana
Ingredients: Hazelnut*
Tips: It is a selection of fine local organically grown hazelnuts. Hazelnuts have a very high nutritional value and are good for the heart. Perfect with sauces, vinaigrettes, desserts or as appetizers.
*Organic farming
 

100 g
Ask us about available formats
Where can you find it?