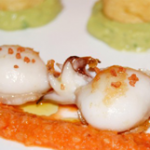 Today we have prepared these cuttlefish skewers with romesco sauce, accompanied by potatoes candied.
The cuttlefish skewers are easy to make and ideal for the summer, can be prepared in the kitchen of their home or at a barbecue, tasting is comfortable and exquisite to the palate. Mediterranean flavors, traditional and desirable always.
Ingredients:
12 small cuttlefish,
extra virgin olive oil,
fine sea salt,
red salt.
coriander
HORTUS Romesco Sauce
Preparation:
Prepare the skewers, for which only need to clean the cuttlefish and string them on a skewer stick, whether wood or stainless steel.
When the kebabs (must serve freshly made), put a little olive oil and make a grill over medium-high with a little salt, turning from time to time to that are made evenly, until tender and lightly browned.
Potatoes can be present in cylinders, as we have done and for which we used a pastry cutter, or cut into cubes (in either case, keep the potato cuttings to make a Parmentier). Put plenty of olive oil in a pan for frying. By having a significant thickness, previously should confit and when tender, fry over high heat to take a golden color.
To serve:
Serve on plates 3 ​​tablespoons HORTUS romesco sauce and placed on each cylinder of potato confit with a little Maldon salt and coriander leaves. Paint the plate with a generous spoonful of salsa romesco HORTUS and she places the cuttlefish skewer seasoned with a bit of red salt. It ends with a thread of olive oil on the skewer and add, if you want you dehydrated chopped black olives.