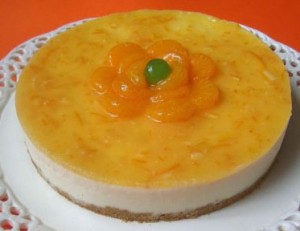 You like candy? Then we present a very simple cheesecake make with organic orange marmalade.
Ingredients:
For the  base:
Graham crackers 125g
60g margarine
For de cake:
100 g of orange juice (they are one or two pieces of fruit)
500 g of cream cheese
3 tablespoons ( about 100 g ) organic orange marmalade HORTUS
4 sheets of gelatin
3 tablespoons sugar ( 2 tablespoons fructose)
Milk 100 g
Preparation:
The base:
Crush cookies progressive 5-10 . Add the margarine at room temperature and spray again to see much involved.
Place the ring mold on the tray where we will serve and smash into biscuit mix , lining the base.
Reserve in the freezer while preparing the cake.
The cake:
In a deep dish with water, let the gelatin sheets items to soak for 5 minutes , because they hydrate.
Squeeze orange juice and heat about a minute in the microwave , do not boil . Toss the drained gelatine leaves and stir until completely dissolved.
In a bowl put the cheese , milk , fructose , and jam , mix all the blender and then pour the orange juice with gelatin, and stir .
We took the base we had reserved in the freezer and toss the mixture inside. Leaving replaced in the freezer or refrigerator for several hours or better overnight .
Coverage:
Once curd, we can decorate to our taste, along with some mandarin orange slices in syrup or marmalade use the other we have left in the pot , mixed with a sheet of gelatin , dissolved in two tablespoons of hot water. And replacing it in the fridge until it hardens coverage.