A very original idea to present some spinach as a starter utilitzando our Organic Romesco Sauce.
Ingredients:
A bunch of spinach
3 egg whites
Salt
Procedure:
We clean the spinach well and cut small, cook them in a wok for 5 minutes. I grind with a blender, let it cool. While assemble the egg whites until stiff with a pinch of salt.
Mix well the egg whites with chopped spinach, put it in cups or glasses. Let stand 6 hours in the refrigerator. Once past these hours, do a second layer with romesco sauce. I turn to cool in the fridge for a couple of hours.
It is an amazing vessel, the "life" that is offset by the spinach sauce that usually are more "bland".
Extrated from: http://www.llepadits.com/2012/04/got-mousse-espinacs-amb-salsa-romesco/
We present a very special salad prepared by the restaurant
restaurant El Dien
 Vallfogona de Balaguer, and
+ bio
 offered in Agramunt Nougat Fair this year.
Green bean

Tomatoes

Pretty cool

Green almond

Mushrooms

Black olives

Olive oil

White wine vinegar

Cava

Flowers
We clean the escabechamos nice and gentle heat oil with 400 cl, 300 cl of white wine vinegar and 200 cl of cava, along with some kind "* anise, bay leaf, thyme …".
Cut the green beans into strips and add to boiling water for 5 minutes, you have to be a little crispy, cool it with water and ice.
Confit the mushrooms winds with oil. Grind black olives with oil. Blanch the green almond, we cool and peel.
Dress beans with organic spicy tomato, black olive oil and the mushrooms.
We put at the bottom of the dish nice pickled bean salad on top, the green almond and flowers.
Along with the salad organic spicy tomato and lines of organic romesco sauce.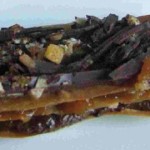 We present a delicious dessert with our Organic Orange Marmalade, a very special recipe courtesy of  
restaurant LALÀ
 Tàrrega, and 
+bio
 has offered in Nougat Fair Agramunt of 12, 13 and 14 October 2012.
Chocolate mousse
(10 servings)
185 g of chocolate
7 eggs
15 g of butter
50 g sugar
Procedure:
Back out the chocolate + butter at (water bath).
Mix with sugar rust. We add yolks + sugar chocolate (double boiler).
We set the egg whites until stiff (pinch of salt).
We mix it all!
To make the crispy:
We syrup: 200 g of mineral water + 100 g sugar (heat). 1 sheet of gelatin immersed in cold water, drain it and mix it with hot water + sugar.
Cut the phyllo dough sheets to our liking, we layered in threes and put them together with a very wet brush with the syrup.
Cooking: 180 ° C / 10 minutes
Cool cooked pasta hit.
First layer: chocolate mousse
Second layer: organic orange marmalade HORTUS APRODISCAe
Top layer: we crossed the chocolate with orange and guarnimos to our liking.
We present a funny cap and giving a different touch with our Organic Spicy Tomatoe Marmalade.
Ingredients for 4 people:
2 flour wafers (Bimbo)

olive oil

a branch of basil

Brie cheese 200g

3 canned sardines in oil

pickles
One of the interesting things about this recipe is that most of the ingredients can be prepared the day before leaving. The first thing you can do is chop the basil and put it in a glass bottle with 200 ml of olive oil. Also the day before, you can leave cut pickles. Cut them in half and make small squares.
To mount the cover, first cut two rectangles of each wafer and wiping the plate with a little oil. When they caught a tan, you can remove the wafers and you will see how, once, are rigid and toast. We distributed jam slightly above the wafer. We put the two strips of brie. On top of the brie, the two backs will no spine sardine or the gut, which is important is that they are preserved with oil and pickled, they would kill the taste of the other ingredients.
To decorate the plate, put the pickle and perfumaremos scattered throughout with basil oil.
We propose a different way to accompany your favorite dough with our Organic Romesco sauce with it gettin a tasty dish, juvenile and original.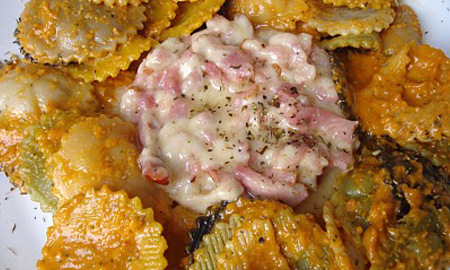 Ingredients for 3 or 4 people:
8 colori Capellacci Pasta (250 gr.) Or you want
1 box of bacon cut into strips
grated emmental
1 small brick of cream to cook
oil, salt and bay leaf
Procedure:
Put in a pot to boil water by adding a bay leaf, a little oil and salt. Boil pasta as it cooks and put the bacon in a pan without oil and fry-what, when starting to brown add the cream to reduce when it has reduced a bit add the cheese and you remove everything, then take it out and reserves.
When you have boiled pasta and can drain and mix with romesco sauce, and serve everything put on a plate with the bacon and cheese that we have prepared.
Finally put some thyme.
Extrated from: http://cuinant.blogspot.com.es/2010/11/pasta-con-salsa-romesco.html