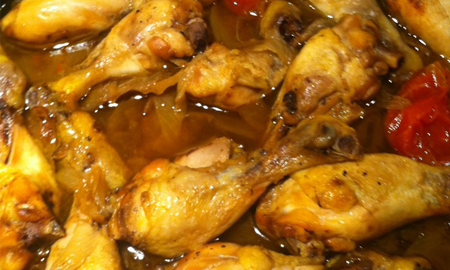 Now that the Christmas holidays approach, we propose a traditional recipe of organic chicken with organic white onion "sofrito".
 Ponemos una cazuela con todo el aceite y con el fuego muy fuerte.
Cuando esté muy caliente, añadimos el pollo y lo doramos por los dos lados, hasta que quede de color marrón (pero no quemado).
Un golpe hecho esto y sin bajar el fuego, ponemos el asado de cebolla ecológico y dejamos que se cueza algo más.
Añadimos el coñac y dejamos que se evapore el alcohol (unos segundos). Entonces ya podemos añadir el laurel, los ajos sin pelar, el tomate entero, la canela y el agua.
Bajamos el fuego al mínimo, tapamos la cazuela y lo dejamos cocer unos 20 minutos.
We present fantastic croquettes made with our organic white onion "sofrito"
Ingredients:
Procedure:
Prepare rice cooked with water about 45 – 50 min., Drain well so that no liquid. Mix carrots, grilled onions, and egg. If we see that it is liquid, it went through a pot or pan to reduce it.
With the mass and a loose, forming balls and we went through the flour, then beaten egg and finally by breadcrumbs. We left them in a dish prepared.
Meanwhile put a small skillet or small saucepan with oil warms, the more oil the better.
When we put the croquettes hot to cook, when we took them out golden brown and put them on absorbent paper.
They eat hot and really are a good resource for when you really want to cook and want sorpender family.
Perfect with a fish dish, if we have something juicy, better pair it with something dry, well compensated.
Extrated from: http://www.llepadits.com/2009/11/croquetes-darros-integral-pastanaga-i-ceba/
We present a delicious dish with contrasts of sweet and savory, made with our organic spicy tomatoe marmalade.
Ingredients for 2 people:
Procedure:
The cod confit:
Place in a saucepan ½ liter of oil-only tour, bay leaf, pepper large.
Heat the oil until it begins to boil, wait about 2 minutes (and will have achieved the temperature of 100-120 ° C) and enter the cod loins.
Lower heat to medium heat and keep (the right is about 80 º C). Cod confit for about 15 minutes. Remove from heat and allow to cool in the same bucket.
The onion confit:
Peel and cut the onion into very thin julienne with a drizzle of olive oil onion confit over very low heat, and carefully stir continuously to prevent burning. Book.
The minced:
Bone the black olives and tapenade types trincharlas to them. book
Chop the hazelnuts to a fine mortar will have a fine paste, put it on a tray to go in the oven and roast for 2 minutes, until the temperature reduced to powder type.
Presentation:
Add the onion to the bottom of the dish, sprinkle over the toasted hazelnut poles, remove the cod confit oil and put it on top. Spread with tomato jam preheated and finally garnish with black olive tapenade.
Extrated from:http://www.receptes.cat/recepta3407/bacalla_amb_melmelada_de_tomaquet_llit_de_ceba_confitada_i_sorpresa_davellana
Now that 
calçots 
are coming , we present a different way of using them complementing it with our fantastic Organic Romesco Sauce.
4 calçots cooked on the grill

300 gr. whipping cream 35% fat

some milk

2 sheets of gelatin
Wasa crackers type 6 (Swedish)

4 anchovies
First we make the mousse, put the milk to boil, add the soaked gelatine. Grind calçots with milk and gelatin, assemble and mix the cream with the 

calçots 

mixture. Pour into a silicone mold and let set at least 6 hours in the refrigerator.

Finely crush crackers with anchovies, until it looks like sand. We put it as the basis of everything.

Past 6 hours desmoldamos mousse on the "arena" of crackers and anchovies:

As the mousse is sweet, calçot and cream too, lay romesco sauce on top to add contrast.
Extrated from: http://www.llepadits.com/2012/03/mousse-de-calcots-amb-romesco/
We present a very special appetizer made with our Organic Orange Marmalade.
Ingredients:
Caramelize onions in a pan with sunflower oil, garlic and rosemary.

Then you cut peláis and potatoes into thin slices. Then you put a little oil in a baking tray and put in the potatoes sheets until a thickness of one centimeter. Take a little oil over the tube and salpimentadlo vanilla. Let it bake at 160 degrees for 15 minutes.

Meanwhile, the round salpimentáis doradlo lamb in a pan with hot oil. When very golden, leave to bake for 12 minutes at 180 degrees.

Then you put in a bowl of rosemary honey, add water and removedlo well.

And finally, emplatad potatoes, you put the next round and guarnís lamb dish with eco orange marmalade, candied shallots and a little rosemary. Finally, you throw the honey diluted with water above the round.
Extrated from: http://www.tv3.cat/cuines/recepta/rodo-de-xai-amb-patates-i-mel/3046
picture: http://padenous.blogspot.com.es/2011/10/cantonigroscan-colom-i-ca-lignasi.html