We present a recipe from Italy and adapted to our pleasure to add a different touch with our organic white onion "sofrito".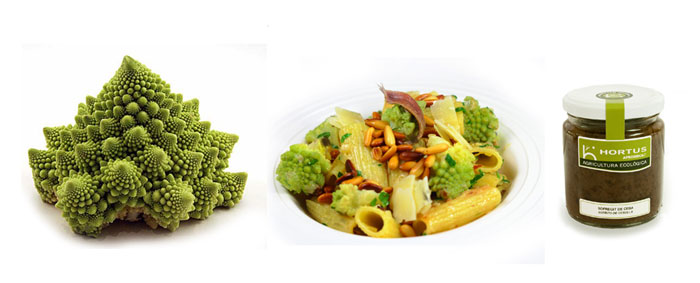 Ingredients:
1brécol romanesco
1 small can of anchovies with oil
2 tablespoons of organic white onion "sofrito" HORTUS APRODISCAe
2 cloves garlic, crushed
Pasta (to taste)
Extra virgin olive oil
1 handful of pine nuts
Fresh parsley, chopped
Flakes of Parmesan cheese
salt
Preparation:
We begin by separating the branches of romanesco broccoli and steaming it between 15 and 20 minutes. Very cool immediately in cold water so they do not lose chlorophyll and drain.
Cook the pasta in a pot with lightly salted water. Cooking time to follow the manufacturer's instructions. Drain the pasta.
Brown the pine nuts with a pinch of salt in a skillet or wok. When browned, remove from pan and set aside on paper towels.
In the same skillet or wok, fry the crushed garlic and add the organic white onion "sofrito".
Add items anchovies and mix well.
Pour the pasta, stirring to mix well. Gradually add romanesco broccoli florets and stir with a wooden spoon to mix everything well.
Add the toasted pine nuts over the pasta in each dish just before serving sprinkle the chopped parsley and Parmesan flakes.
Excerpted and adapted from: http://ow.ly/Ilg0c