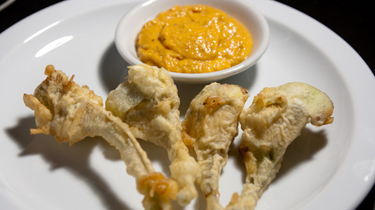 We present a dish and very easy to prepare artichokes that accompanied our organic romesco sauce you will be very good.
Ingredients:
Artichokes
Vegetable Tempura
Preparation:
Peel a little trunk until the white area exit , take the first leaves , the hardest and then divide it into 4 parts.
To prepare the tempura batter is follow the instructions on the package , in the proportion of flour and water to mark. Cold water, that if , and stir slowly and not excessively. Then spend the artichokes with the tempura in the boiling oil.
Once cool , we remove and put on absorbent kitchen paper.  And we are ready to present the dish with organic romesco sauce.
Extracted from: http://ow.ly/wtIJ8