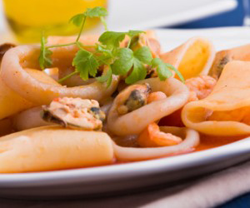 We bring a quick recipe that will delight the younger members of the house.
Ingredients:
400 grams. clean small squid.
2 tablespoons parsley.
Salt and pepper.
4 tablespoons olive oil.
1 teaspoon lemon zest.
HORTUS Romesco Sauce
Preparation:
In a skillet heat two tablespoons of olive oil and saute the calamari in batches until they are ready.Mix together the HoRTUS Romesco Sauce, the parsley, remaining olive oil, lemon zest and salt, pour this dressing over the cooked squid and finish with freshly ground black pepper.
Garnish to taste.