Today we present a traditional dish of Catalan cuisine, ideal for autumn with input from the cold and is made with organic whithe onion "sofrito" as a culinary base.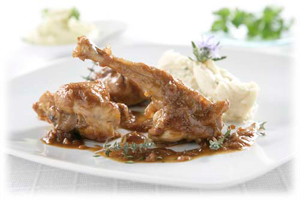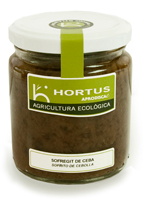 Ingredients for 4 people:
1 rabbit farm 1 kg and 200 g approx. purchased clean
3 large tomatoes
3 potatoes
40 g butter
4 tablespoons of Organic white onion "sofrito" Hortus Aprodiscae
Half a glass of water and half a glass of white wine
6 cloves of garlic
Laurel
Extra virgin olive oil
Salt
Preparation:
We wash the potatoes and introduced into a pot unpeeled. Cover with water and salt, cover the pot and simmer for 20 minutes. Let them temper in the same cooking water.
While still hot inside, peel and pass through a food mill over the butter at room temperature. Add salt and pepper, mix homogeneously and reserve the puree.
Cut the rabbit into pieces keeping the shoulders and thighs whole, in a clay pot with a little oil gilded pieces of rabbit.
Once a golden, about 10 minutes. The reserve. In the same pan and oil add the tomatoes cut into cubes without skin and seeds and whole garlic slices.
Stir a little. And then we pour the water, wine, bay leaves and rabbit we had booked.
Cover the pan and let simmer about 45 minutes. During we are stirring and let's see if we need to add a little water.
In parallel, add spoonfuls of fried organic white onion "sofrito", and leave about 15 minutes.
We can serve the dish accompanied by mashed potatoes.
Excerpted and adapted from and photograph: http://ow.ly/TQDx8  http://ow.ly/TQDNK
Where can you find our organic white onion "sofrito"?