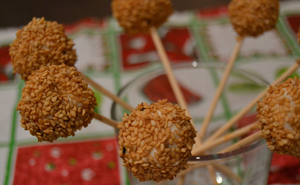 Today we present a snack shaped lollipop, does not require the oven and has two very attractive features : cabara cheese and organic spicy tomatoes marmalade, which gives it that special touch.
Ingredients (for about 12 lollipops):
An entire section of goat cheese ( about 12 centímetors long)
Sesame seeds
12 skewer sticks
Preparation:
Remove the skin or bark of goat cheese and we were inside.
On a clean flat superificie , the knead a little and then, with hands, make small balls go about 2 inches in diameter.
We put them on a tray, covered with plastic wrap, and put them in the freezer for a while. Half an hour will be enough, just because it stay compact and do not break when riding.
Once out of the freezer, gently pinning the 'll skewer sticks
Then put the jam in a glass (or use the same boat ) and we dipped the balls one at a time, ensuring that they are heavily covered with jam.
Finally the rebozamos with sesame, we have on a plate.
We place the skewers on a fixed support (eg full of stones or coarse salt test) or put them in a glass. We keep in the refrigerator until just before serving.
Extracted from: http://ow.ly/wJmX1