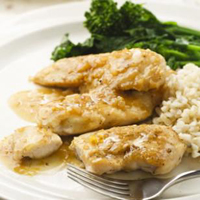 Orange marmalade HORTUS and freshly grated orange zest make a deliciously tangy sauce for quick-cooking chicken tenders. Serve with brown rice.
Ingredients:
1 cup chicken broth
2 tablespoons red wine vinegar
2 tablespoons orange marmalade Hortus
1 teaspoon Dijon mustard
1 teaspoon corn starch
400g chicken breast cut into strips.
1/2 teaspoon salt
1/4 teaspoon freshly ground pepper
6 tablespoons extra virgin olive oil.
2 large onions, chopped
1 teaspoon freshly grated orange zest
Preparation:
Whisk broth, vinegar, marmalade, mustard and cornstarch in a medium bowl.
Sprinkle chicken with salt and pepper. Heat 4 teaspoons oil in a large skillet over medium-high heat. Add the chicken and cook until golden, about 2 minutes per side. Transfer to a plate and cover with foil to keep warm.
Add the remaining 2 teaspoons oil and shallots to the pan and cook, stirring often, until beginning to brown, about 30 seconds. Whisk the broth mixture and add it to the pan. Bring to a simmer, scraping up any browned bits. Reduce heat to maintain a simmer; cook until the sauce is slightly reduced and thickened, 30 seconds to 2 minutes. Add the chicken; return to a simmer. Cook, turning once, until the chicken is heated through, about 1 minute. Remove from the heat and stir in orange zest.
Note: Chicken tenders are the virtually fat-free strips of rib meat typically found attached to the underside of chicken breasts. They can also be purchased separately. Four 1-ounce tenders will yield a 3-ounce cooked portion. Tenders are perfect for quick stir-fries, chicken satay or kid-friendly breaded "chicken fingers."
Recipe from EatingWell: http://www.eatingwell.com/