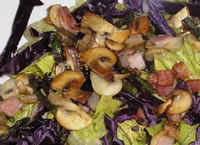 The warm touch of this salad makes delicious and complete aswell.
Ingredients:
A piece of julienned cabbage
Lettuce
Nuts
Fresh cheese
A few pieces of bacon
Mushrooms
Some asparagus tips
Cut the lettuce and cabbage and reserve. Saute the mushrooms and asparagus tips in the pan. Gilded bacon bits equally.
We make a vinagrette with:
Balsamic vinegar
A spoonful of orange marmalade Hortus
A pinch of salt
Olive oil.
The proportion of the vinagrette three parts oil to one of vinegar.
Stir everything and assemble our salad placing the hot components above with our vinaigrette.
Delicious.