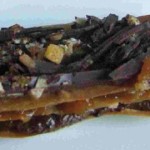 We present a delicious dessert with our Organic Orange Marmalade, a very special recipe courtesy of  
restaurant LALÀ
 Tàrrega, and 
+bio
 has offered in Nougat Fair Agramunt of 12, 13 and 14 October 2012.
Chocolate mousse
(10 servings)
185 g of chocolate
7 eggs
15 g of butter
50 g sugar
Procedure:
Back out the chocolate + butter at (water bath).
Mix with sugar rust. We add yolks + sugar chocolate (double boiler).
We set the egg whites until stiff (pinch of salt).
We mix it all!
To make the crispy:
We syrup: 200 g of mineral water + 100 g sugar (heat). 1 sheet of gelatin immersed in cold water, drain it and mix it with hot water + sugar.
Cut the phyllo dough sheets to our liking, we layered in threes and put them together with a very wet brush with the syrup.
Cooking: 180 ° C / 10 minutes
Cool cooked pasta hit.
First layer: chocolate mousse
Second layer: organic orange marmalade HORTUS APRODISCAe
Top layer: we crossed the chocolate with orange and guarnimos to our liking.