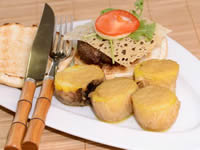 To bid farewell August, we recommend a barbecue this weekend … will delight young and old.
Ingredients:
4 Burgers 250 g each
4 Rolls Round
Grated Parmesan cheese
Roasted Onion ECO Hortus
4 new potatoes
1 head of garlic
Olive oil
Vinegar
Salt
Cumin
Coriander
Fresh Tomato
Arugula
Preparation:
First of all, place the grated parmesan on a grill tray on greaseproof paper and cook it on the barbecue covered about 200 ° C for five minutes.
Over time we remove the tray from the heat and let cool. Then, we have burgers on the grill, let it be marked and then, cover the grill for the meat is cooked through.Then wrap the potatoes in foil and introduce the coals for 20-25 minutes.
For the green sauce in a bowl mix garlic, salt and cumin. Incorporate vinegar, cilantro, oil and grind.
To serve  burgers on buns with some little spons of Hortus Organich Onion Sauce, with slices of tomato and a bit of arugula. Accompany mojo and potatoes.