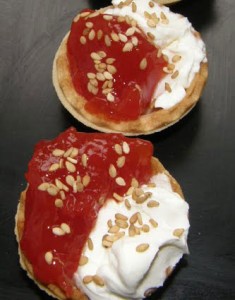 We present a dish to make a pica pica, good, very simple and very colorful with our organic spicy tomatoes marmalade.
Ingredients:
Tartlets

Philadelphia cream cheese type

Sesame
Preparation:
Each tart put a teaspoon of cheese and organic spicy tomatoe marmalade.

Ending slightly above sesame.
Extrated from: http://www.lestevesreceptes.cat/click/index/891156/?site=crijoarmael.blogspot.com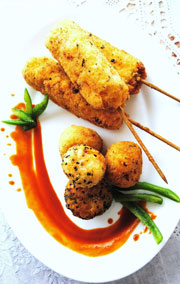 We present a recipe very easy and economical, look how is with organic spicy tomatoes marmalade.
Ingredients:
250 g rice
100 g diced ham
1/2 red pepper and 1/2 Yellow
Media onions
2 eggs
flour
breadcrumbs
Black sesam (optional)
Salt and pepper
Preparation:
Cook the rice and let it pass the point just cooked so that it is softer than normal. It's best to use a pump-type rice but if not equal worth us others except parboiled rice, as we would with a completely different texture.
Then let cool strain the rice, this recipe can be made with rice remains that we have been the day before.
Incorporate in a bowl with rice, diced ham, peppers and onions. Mix everything well, season and add the egg, mix and keep adding flour to go into a mass that can be worked with your hands.
Form balls for round croquettes and roll in bread with black sesame for remaining batter.
For the skewers, place a large amount of rice to the beads on one end of a stick and go broché pressing the rice to make it in the shape you see in the picture, then batter with bread crumbs.
Fry the croquettes as both skewers in hot oil until golden.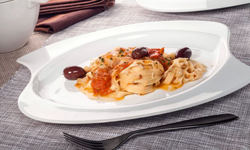 If you like cooking and you are on vacation can be a great time to learn how to make fresh pasta, natural and homemade.
Ingredients (2-4 people):
For the homemade pasta (you can also buy fresh pasta):
250 grams of flour
3 eggs
1 egg yolk
extra virgin olive oil
water
salt
For the sauce:
8 black olives
4 anchovies in oil
water
salt
oregano
parsley
HORTUS Spicy Tomato Mermelade.
Preparation:
To make the homemade pasta, place the flour in a bowl and add 3 eggs and 1 egg yolk and season. Add a drizzle of extra virgin olive oil and mix well. Knead with your hands on a floured surface until smooth and let stand for 30-45 minutes covered with a damp cloth. Stretch the dough, cut it into strips and put them to cook in a saucepan with plenty of salted water for 2 minutes. Drip them
To complete the sauce, add the anchovies, breaks-with a fork. Stir in olives and add some oregano. Mix homemade pasta with spicy tomato jam and add the grated cheese. Serve the noodles in a bowl and sprinkle with a little chopped parsley.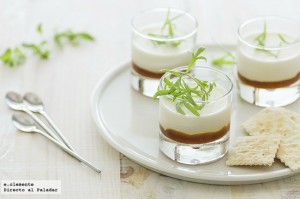 Ingredients:
100 g of Hortus Spicy Tomato Mermelade
125 ml milk
125 ml cream,
70 g finely grated Parmesan cheese,
1 g of agar agar, salt and pepper
Preparation:
Begin distributing the tomato mermelade in the bottom of the cups by a smooth layer.
Then put them in a saucepan the cream, milk and Parmesan cheese and agar agar, this I find in supermarkets or health food stores. We carry everything to a boil, stirring continuously with a whisk but slowly, trying not to make bubbles, let it cook for two minutes. Add a little pepper to taste and add salt.
Pour through a sieve the mixture spreading it between shots, we materialize a minimum of three hours. Serve chilled.
Recipe courtesy of Esther Clemente, Directo al Paladar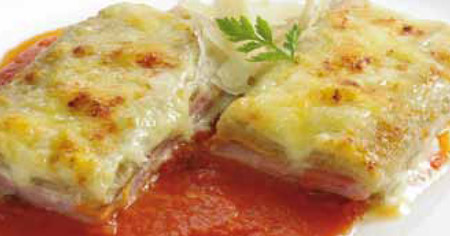 Os present using the chard stems that normally people do not know as you have to cook, you will obtain a dish very different and tasty with our Organic Spicy Tomatoes Marmalade.
Ingredients:
Chard stems (because out between 16 and 20 booklets)
4 or 5 slices of ham, a little thick
Manchego cheese 125g
200 ml of cream
2 eggs
Flour
Pinch of nutmeg
Extra virgin olive oil and salt
Preparation:
Cleanse the leaves, they have to be wide, taking care of them clean and cortadlas thread in the direction of the length pieces about 7 cm, you'll have to blanch.
Also you cut the ham to the same extent as the pieces of stalk, make ready the booklets. Flour and go through the egg and season, freídlos in hot oil.
Grate the cheese and then you put it in a saucepan the cream or cream, throw over a little nutmeg, add the cheese and removed removedlo very low heat.
To serve, you put the bottom of the dish a little spicy tomato jam and the leaves above batter and cover it all with the cream cheese. Serve him finish out the fire.
This dish can also be prepared and heat leaving the oven, or in another variant, the leaves filled with braised oxtail.