Today we present a delicious pork chop flavored with our Organic Orange Marmalade.
Ingredients for 2 people:
600 grams of pork ribs in one piece

1 clove of garlic

Orange juice 2-3

2 tablespoons organic orange marmalade HORTUS APRODISCAe

1 glass of white wine

1 carrot

8 prunes

1 bay leaf

honey

Olive oil

black pepper

salt
Salpiment rib, you cut the clove of garlic in half and untáis the pork chop with him. Then you make incisions on each rib and honey untáis inside.

Ribbing is roasted in a pan with a little oil and when it begins to brown, watered with orange juice and a glass of water.

While the meat is simmering, peel the carrots, cut into cubes and add to the pan along with the bay leaf, salt and pepper. During the cooking time, the mixture is removed rather frequently to prevent snagging, and in case of drying, more hidrated with juice or water. When the meat begins to be tender, incorporad prunes and a cup of white wine, let it cook longer until ribbing is completely tender.

To decorate over the plate, and in the absence of the last minutes on adding two tablespoons of orange marmalade that decorate the piece and aromatizarán more sauce.

In the presentation you cut the ribs dividing the piece number convenient for diners who believe.
We present a very special appetizer made with our Organic Orange Marmalade.
Ingredients:
Caramelize onions in a pan with sunflower oil, garlic and rosemary.

Then you cut peláis and potatoes into thin slices. Then you put a little oil in a baking tray and put in the potatoes sheets until a thickness of one centimeter. Take a little oil over the tube and salpimentadlo vanilla. Let it bake at 160 degrees for 15 minutes.

Meanwhile, the round salpimentáis doradlo lamb in a pan with hot oil. When very golden, leave to bake for 12 minutes at 180 degrees.

Then you put in a bowl of rosemary honey, add water and removedlo well.

And finally, emplatad potatoes, you put the next round and guarnís lamb dish with eco orange marmalade, candied shallots and a little rosemary. Finally, you throw the honey diluted with water above the round.
Extrated from: http://www.tv3.cat/cuines/recepta/rodo-de-xai-amb-patates-i-mel/3046
picture: http://padenous.blogspot.com.es/2011/10/cantonigroscan-colom-i-ca-lignasi.html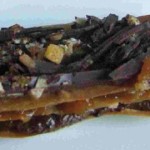 We present a delicious dessert with our Organic Orange Marmalade, a very special recipe courtesy of  
restaurant LALÀ
 Tàrrega, and 
+bio
 has offered in Nougat Fair Agramunt of 12, 13 and 14 October 2012.
Chocolate mousse
(10 servings)
185 g of chocolate
7 eggs
15 g of butter
50 g sugar
Procedure:
Back out the chocolate + butter at (water bath).
Mix with sugar rust. We add yolks + sugar chocolate (double boiler).
We set the egg whites until stiff (pinch of salt).
We mix it all!
To make the crispy:
We syrup: 200 g of mineral water + 100 g sugar (heat). 1 sheet of gelatin immersed in cold water, drain it and mix it with hot water + sugar.
Cut the phyllo dough sheets to our liking, we layered in threes and put them together with a very wet brush with the syrup.
Cooking: 180 ° C / 10 minutes
Cool cooked pasta hit.
First layer: chocolate mousse
Second layer: organic orange marmalade HORTUS APRODISCAe
Top layer: we crossed the chocolate with orange and guarnimos to our liking.
Check out this recipe for a healthy dessert.
This cup is still a simple yogurt presented in an original way. However, if you do not reveal the jam inside, your guests are sure to be pleasantly surprised and forget that it is only a yogurt
 Ingredients:
4 natural yoghurt
4 tablespoons orange marmalade Hortus Aprodisca
Fresh Mint
Anisos or grated chocolate.
Procedure:
Divide the yogurt into cups filling them halfway and leave them in the refrigerator for 10 minutes.
Add a spoonful of jam in each cup and fill them up with the remaining yogurt.
Garnish with fruit jam with a fresh mint leaves and / or anisos or grated chocolate.
Reserve in the refrigerator and serve chilled.
Ingredients: Orange* and  white sugar cane*. Homemade recipe where oranges are sliced up by hand then slowly cooked and sweetened with organically grown white sugar cane.
Tips: It is ideal for complementing cured cheeses, foie gras, fish, or as ingredient in sweet vinaigrette. It is perfect as a complement for desserts such as natural yoghurt, cottage cheese, and confectionery.

*Organic farming

 



Where can you find it?
Recipes with Organic orange marmalade: