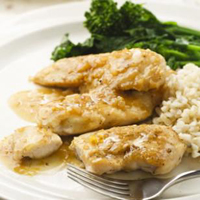 Orange marmalade HORTUS and freshly grated orange zest make a deliciously tangy sauce for quick-cooking chicken tenders. Serve with brown rice.
Ingredients:
1 cup chicken broth
2 tablespoons red wine vinegar
2 tablespoons orange marmalade Hortus
1 teaspoon Dijon mustard
1 teaspoon corn starch
400g chicken breast cut into strips.
1/2 teaspoon salt
1/4 teaspoon freshly ground pepper
6 tablespoons extra virgin olive oil.
2 large onions, chopped
1 teaspoon freshly grated orange zest
Preparation:
Whisk broth, vinegar, marmalade, mustard and cornstarch in a medium bowl.
Sprinkle chicken with salt and pepper. Heat 4 teaspoons oil in a large skillet over medium-high heat. Add the chicken and cook until golden, about 2 minutes per side. Transfer to a plate and cover with foil to keep warm.
Add the remaining 2 teaspoons oil and shallots to the pan and cook, stirring often, until beginning to brown, about 30 seconds. Whisk the broth mixture and add it to the pan. Bring to a simmer, scraping up any browned bits. Reduce heat to maintain a simmer; cook until the sauce is slightly reduced and thickened, 30 seconds to 2 minutes. Add the chicken; return to a simmer. Cook, turning once, until the chicken is heated through, about 1 minute. Remove from the heat and stir in orange zest.
Note: Chicken tenders are the virtually fat-free strips of rib meat typically found attached to the underside of chicken breasts. They can also be purchased separately. Four 1-ounce tenders will yield a 3-ounce cooked portion. Tenders are perfect for quick stir-fries, chicken satay or kid-friendly breaded "chicken fingers."
Recipe from EatingWell: http://www.eatingwell.com/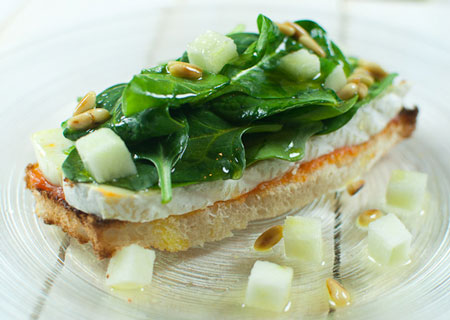 We present a fresh recipe for these hot days and already crave lighter dishes with our organic Orange Marmalade.

Ingredients (for 4 people):
4 slices of bread
250 g of brie
50 g of spinach
1 apple
60 ml extra virgin olive oil
10 ml apple cider vinegar
some toasted pine nuts
Mix the vinaigrette ingredients
Toast the bread and spread it with orange marmalade
Putting cheese, sliced ​​1 cm thick on bread
Heat the cheese toast in the oven for 1 minute
Add up the spinach and apple diced small
Dress it all with pine nut vinaigrette
We present a recipe that you can use as you like best, such as breakfast, entree or dessert, served with our organic spicy tomatoe marmalade and organic orange marmalade.

2 natural yoghurts
Grains of wheat or other cereal
The assembly we do with a glass or a cup, put some yogurt, make a layer with spicy tomato marmalade and ended with orange marmalade.
Garnish with cereals.
This cup yogurt, jams and cereals is very simple but it is still a breakfast, entree or dessert delicious, refreshing and nutritious.
Extrated from: http://www.directodelnorte.com/recetas_mermeladas_4.html
It is increasingly common to meet people who have a food allergy or intolerance. So the theme of this month and that is how home cooking when there is allergic or intolerant.
Allergies and food intolerances most common are: milk, eggs, gluten, fruit, nuts, fish, shellfish and vegetables.
The first thing to do to develop a prescription for an allergy to a particular food is to ensure that the ingredients we use do not contain the element that causes intolerance or allergy. This information shall find a product label when this is packaged, but will need to know it when it is fresh or bulk.
A blow all the ingredients fit, the next step is to make sure that all appliances we use are very clean, any remaining food could contaminate the dish. And finally, while elaborate, we must take care of not much use anything that may contain the allergen in question, that is, if we separated all utensils clean, half can not take the spoon we used to do a other preparations or that lay on the marble and we do not know which foods had been in contact before.
Drawing Easter approaching, and that some have godparents to do the cake Easter, we propose a recipe for a gluten and milk, and therefore suitable for people with celiac and / or intolerant or allergic to milk
Ingredients for a mold for 4-6 people:
300 g of corn (canned)
100 g of rice drink
Sugar 200 g
200 g of maize flour
90 ml of oil-solo tour
4 eggs
15 g baking powder
500 ml of beverage of rice
50 g sugar
4 eggs
40g corn starch
Lemon peel
Cinnamon stick
Sucre to burn
Crushing corn, rice drink, oil and 100 g of sugar. If you wish, you can strain the mixture to get the bread smooth. Reservais preparation.
Whites serparar the yolks. beat the yolks with 50 g, until they have doubled in size. Reservais.
Beat egg whites with sugar subtracting (50 g) until stiff.
You add the rust with gentle movements to the corn mixture. Then do it with the clear.
Pull within to the mold previously oiled or a silicone mold.
Cook in the oven for 35 minutes at 170 ° C.
You put on a pot of rice drink 450ml, lemon peel, cinnamon, sugar and calentáis, without allowing it to boil.
After 50 ml of restants rice drink will you add the starch and removéis.
In a bowl, egg yolks Batís, you add the dissolved starch.
Infused rice drink to rust and starch mixture.
You return to the saucepan and put cocéis stirring until you have a thick texture.
We remove yourselves from the heat and you leave it to cool.
Pinch you cut the bread in half so you fill the organic orange marmalade HORTUS APRODISCAe that you like.
Recubrís pinch bread with cream.
You put a little sugar over the cream and you burn it with a shovel or torch.
You add some sliced ​​almonds and toast on the wings.
Easter decorating motif.
We present a salad with lots of color and easy to make, along with a vinaigrette made with our Organic Orange Marmalade.
Ingredients: (for 2 people):
250g. desalted cod
140g. of green beans
2 slices of melon balls given either
1 orange
1 handful of seeds and green pipes or a handful of nuts or some other nut
3 tablespoons organic orange marmalade HORTUS APRODISCAe
Extra virgin olive oil (the need for being too emulsified vinaigrette)
Preparation:
Put water to boil and add the green beans for about 10 minutes. Once al dente quickly put the pot in cold water to prevent these lose their color.
Cut or tear the cod.
Cut the melon into cubes or balls do.
Peel orange and cut into longitudinal sections and then make dice.
To prepare the vinaigrette mix with orange marmalade blender echo and virgin olive oil.
To make the dish assembly have all the ingredients in bowls, add a few pips or seeds above and aliñamos with vinaigrette.
Extrated from: http://courecoulants.blogspot.com.es/2012/07/amanida-de-bacalla-amb-taronja-i.html