A delicious pasta recipe perfect for summer where the main ingredient is tuna.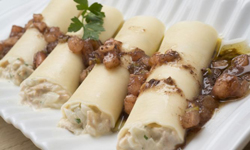 Ingredients:
16 sheets of cannelloni
200 gr. of tuna in oil
1 spring onion
1 tomato
3 pickles
1 egg
1 tablespoon tapenade (black olive puree)
water
extra virgin olive oil
vinegar
salt
parsley
Elaboration:
Put water to boil in a large saucepan with a pinch of salt. Bring to the boil, add the cannelloni sheets and cook for about 10-12 minutes. Take them out and drain on a clean tea towel.
To make the mayonnaise, put the egg in the bowl of the mixer. Add a pinch of salt, a dash of vinegar and 150 ml. oil (approximately). Enter the mixer arm, keep quiet and give up. When you start to flirt, move it upward and downward movements until completely flirting.
Chop the onion finely and place in a bowl. Add the mayonnaise and crumbled nice. Mix well. Fill the cannelloni and place in a bowl. Chop the dill finely and place in a bowl. Peel the tomatoes, and add diced Picalo.
Add the tablespoon onion tapenade to Sofrito HORTUS. Mix well and spread the mixture over the cannelloni. Serve and garnish with a sprig of parsley.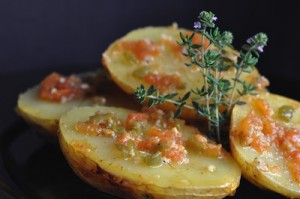 Today we offer you an old recipe, but we add a delicious innovation: the base of Hortus Onion Sauce.
In a mortar, chop the garlic with paprika and parsley. Then add the olive oil, two tablespoons of a roasted onion Hortus and let marinate while you prepare the potatoes.
In a large pot boil water and put the potatoes with skin, approximately 20 minutes or until soft. Once cooked, the drain and let cool a few minutes. Then peel them and cut them into slices 1 cm thick. Distributed in plates where we have.
The chopped, add the bread crumbs and the extensive carefully over the potatoes … Nothing, in 30 minutes we will have a good starter.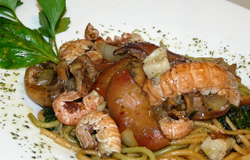 We present a recipe a bit laborious but lovely with our organic white onion "sofrito" as a base for the sauce of this dish.
Ingredients:
Preparation:
Wash, peel and cut the mushrooms into slices not too thin, too clean robellones, lobster tails and basil leaves.

Bring water to boil with a little oil, a little salt and a couple of bay leaves. When starting to boil put the noodles and cook for 10-12 minutes or

Chop some garlic and parsley, heat a little oil in a pan, launches the garlic and parsley and mushrooms, add a little salt and stir then put three tablespoons of roasted onion and quiet.

In the same pan, add a little more oil to the shrimp, dotted previously and then he made his point, foreign torraditas along with mushrooms.

Put the basil you have previously cut, but nothing, four courts, is the big leaf. Two minutes turning and throwing spaghetti, you throw a pinch of white pepper and remove the black and all good. They have to brown a little, add the mushrooms with crayfish and juices.

Serve with the spaghetti with prawns base above and mushrooms accompanied by a little chopped parsley.
Now that it's strawberry season, we present a very original recipe with organic white onion "sofrito".
Ingredients (for 4 people):
600 g pork loin
200 g of strawberries
3 tablespoons of organic white onion "sofrito" HORTUS APRODISCAe
50 g of butter
50 g grain mustard
Vinegar 50 ml of strawberry
100 ml water
salt
Pepper
Extra virgin olive oil
To serve: salad and roasted potatoes
Preparation:
Generously seasoning the pork loin and brown on all sides in a pan with a little oil. Remove the meat, spread with mustard and roast in the oven for about 20 minutes at 190 ° C and during the last 5 minutes, add the tablespoon of organic white onion "sofrito".

Meanwhile, in skillet, reduce heat to very soft strawberry vinegar, water, honey and half the strawberry puree, stirring with a wooden spoon. When missing a few minutes to finish cooking, add the reserved strawberries and cook for another few minutes.

Cut the pork into thick slices and drizzle with strawberry sauce.

Serve on a bed of salad and served with roasted potatoes.
Extrated from: Mi receta de la revista Mi bebé y yo – Abril 2013
We present a traditional recipe for this time of Easter, made with our organic white onion "sofrito".
Ingredients (for 4 people):
Preparation:
Put the cod in water and when desalting enharinamos and put it in the pan, fry it and put kitchen paper to release the oil.
Oil in a pan will, we'll take the tomato, garlic and chopped small when the sauce is done add the two tablespoons of organic white onion "sofrito", let it be fried a bit and then put a little water.
Peel the artichokes and put them in water with a little lemon juice, the enharinaremos and put in a pan to fry.
In a saucepan over part will boil eggs and cooked when the pelaremos and depart in half, while in the pan will cod, boiled eggs that are halved, artichokes and peas cooked, it let it cook for fifteen minutes more, I'll try to see how salt is and if it is at an all we can assume.
Extrated from: http://www.receptes.cat/recepta1477/bacalla_de_setmana_santa