We present a traditional recipe with rabbit but in this case we add our spicy sausage and our organic white onion "sofrito".
Ingredients:
Rabbit
Sobrasada
Laurel
Cinnamon
Salt, black pepper, extra virgin olive oil and water
Preparation:
In a pan with oil and a pinch of salt, fry sobrasada cut, skinless, when they throw the rabbit is thrown, clean, seasoned and made ​​into pieces and let fry until very blond.

Meanwhile, in a pan, pour the white onion "sofrito" heat a little and pulled the contents of the pan. Then added a glass of water, a bay leaf, a log of cinnamon, salt and black pepper.

Gets choked, covered and little fire, until the rabbit is tender.
These squid with onions are a recipe Super grateful to … is the typical recipe that made our mothers when estávamos at home, and now we call them to ask … those squid, as do???
We clean the squid, very clean … and we cut the eyes … the reserve.
Add the onion and roasted squid soon begin to brown.
We'll wait until they have taken all the water, and then add the white wine, put the fire stronger and when I have drunk it's ready to eat!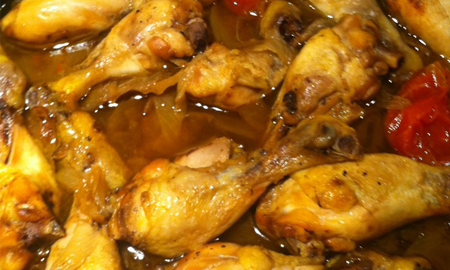 Now that the Christmas holidays approach, we propose a traditional recipe of organic chicken with organic white onion "sofrito".
 Ponemos una cazuela con todo el aceite y con el fuego muy fuerte.
Cuando esté muy caliente, añadimos el pollo y lo doramos por los dos lados, hasta que quede de color marrón (pero no quemado).
Un golpe hecho esto y sin bajar el fuego, ponemos el asado de cebolla ecológico y dejamos que se cueza algo más.
Añadimos el coñac y dejamos que se evapore el alcohol (unos segundos). Entonces ya podemos añadir el laurel, los ajos sin pelar, el tomate entero, la canela y el agua.
Bajamos el fuego al mínimo, tapamos la cazuela y lo dejamos cocer unos 20 minutos.
We present fantastic croquettes made with our organic white onion "sofrito"
Ingredients:
Procedure:
Prepare rice cooked with water about 45 – 50 min., Drain well so that no liquid. Mix carrots, grilled onions, and egg. If we see that it is liquid, it went through a pot or pan to reduce it.
With the mass and a loose, forming balls and we went through the flour, then beaten egg and finally by breadcrumbs. We left them in a dish prepared.
Meanwhile put a small skillet or small saucepan with oil warms, the more oil the better.
When we put the croquettes hot to cook, when we took them out golden brown and put them on absorbent paper.
They eat hot and really are a good resource for when you really want to cook and want sorpender family.
Perfect with a fish dish, if we have something juicy, better pair it with something dry, well compensated.
Extrated from: http://www.llepadits.com/2009/11/croquetes-darros-integral-pastanaga-i-ceba/
Today we present you a healthy sandwich made holidays chicken breast and our organic onion "sofrito".

Ingredients:
Ciabatta bread
1 chicken breast
1 head of garlic
1 tomato
1/2 cup chicken broth
Basil leaves and lemon thyme
Oil and salt
Procedure:
Roast chicken in a clay pot with a little oil. When browned add the roasted onion, head of garlic and tomato party involved.
Then stir in the chicken broth to prevent left parched and went controlling cooking until tender and well ready.
Crush the garlic pulp with a fork and mix with a little oil from the meat to make a sauce.
Once cold, the chicken finely laminated.
Assemble the sandwich in a piece of ciabatta, with a bit of garlic, some basil leaves, chicken, roast onion, a bit of roasted tomato and finished with lemon thyme leaves.
Extrated from: http://elsfogonsdelabordeta.wordpress.com/2012/05/13/entrepa-de-pit-de-pollastre-rostit/