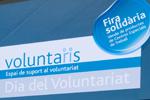 On 2 December 2010 was held on Corporate Volunteer Day in Abertis focused on sensitizing people on disability.
During the day conferences were held, there were initiatives of solidarity for workers and institutional level, and installed a charity fair where various associations and foundations have to sell products from their sheltered work, mostly made up of people with disabilities.
Hortus APRODISCAe participated with a stall where Xenia, Anna and Karen sold homemade organic food: orange marmalade, tomato jam, nuts, olives, salsa romesco …
The workers Abertis over taste and buy our products could learn about our social project, raising awareness of the importance of promoting quality of life and social integration and employment of persons with disabilities intellectual, mental illness and / or social exclusion.
Abertis applaud this initiative as positive for all participants: company, employees, NGO participants and their users.