It has been launched our Eco Christmas Gifts 2012 campaign and this year we propose a wide range of possibilities of Christmas hampers ranging from 7 € to 60 €, all organic, healthy and delicious!
Booking it before 10 November and you will enjoy a 10% discount on all items, take advantage of this marvellous opportunity!
Take a look at it, we can adapt us and match all your needs, contact us describing how we can help you or call 34 977 86 07 68. We can customize together your hamper design.
A very original idea to present some spinach as a starter utilitzando our Organic Romesco Sauce.
Ingredients:
A bunch of spinach
3 egg whites
Salt
Procedure:
We clean the spinach well and cut small, cook them in a wok for 5 minutes. I grind with a blender, let it cool. While assemble the egg whites until stiff with a pinch of salt.
Mix well the egg whites with chopped spinach, put it in cups or glasses. Let stand 6 hours in the refrigerator. Once past these hours, do a second layer with romesco sauce. I turn to cool in the fridge for a couple of hours.
It is an amazing vessel, the "life" that is offset by the spinach sauce that usually are more "bland".
Extrated from: http://www.llepadits.com/2012/04/got-mousse-espinacs-amb-salsa-romesco/
We present a very special salad prepared by the restaurant
restaurant El Dien
 Vallfogona de Balaguer, and
+ bio
 offered in Agramunt Nougat Fair this year.
Green bean

Tomatoes

Pretty cool

Green almond

Mushrooms

Black olives

Olive oil

White wine vinegar

Cava

Flowers
We clean the escabechamos nice and gentle heat oil with 400 cl, 300 cl of white wine vinegar and 200 cl of cava, along with some kind "* anise, bay leaf, thyme …".
Cut the green beans into strips and add to boiling water for 5 minutes, you have to be a little crispy, cool it with water and ice.
Confit the mushrooms winds with oil. Grind black olives with oil. Blanch the green almond, we cool and peel.
Dress beans with organic spicy tomato, black olive oil and the mushrooms.
We put at the bottom of the dish nice pickled bean salad on top, the green almond and flowers.
Along with the salad organic spicy tomato and lines of organic romesco sauce.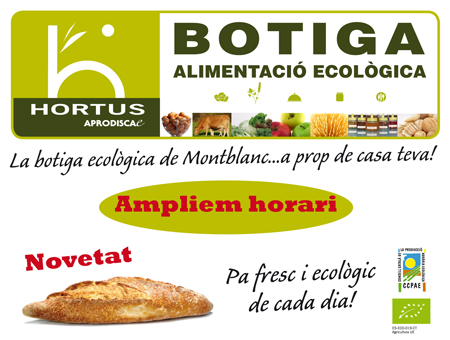 We inform you that we have extended our store hours and that is as follows: Tuesday to Friday from 8:30 to 14:00 and from 17:00 to 20:30  and Saturday from 9:00 to 14:00 and from 17 : 00 to 20:30.
And NEW we offer fresh bread and green every day! You can make your orders at telephone 977 86 19 10.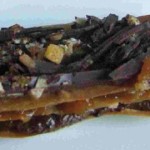 We present a delicious dessert with our Organic Orange Marmalade, a very special recipe courtesy of  
restaurant LALÀ
 Tàrrega, and 
+bio
 has offered in Nougat Fair Agramunt of 12, 13 and 14 October 2012.
Chocolate mousse
(10 servings)
185 g of chocolate
7 eggs
15 g of butter
50 g sugar
Procedure:
Back out the chocolate + butter at (water bath).
Mix with sugar rust. We add yolks + sugar chocolate (double boiler).
We set the egg whites until stiff (pinch of salt).
We mix it all!
To make the crispy:
We syrup: 200 g of mineral water + 100 g sugar (heat). 1 sheet of gelatin immersed in cold water, drain it and mix it with hot water + sugar.
Cut the phyllo dough sheets to our liking, we layered in threes and put them together with a very wet brush with the syrup.
Cooking: 180 ° C / 10 minutes
Cool cooked pasta hit.
First layer: chocolate mousse
Second layer: organic orange marmalade HORTUS APRODISCAe
Top layer: we crossed the chocolate with orange and guarnimos to our liking.