Today we present a completely original dish that will bring color to your table, a good spinach pie served with our organic romesco sauce.
Ingredients:
½ kg. potato 

½ kg. carrot 

½ kg. spinach 

3 eggs 

75 g of butter 

Oil, nutmeg, salt and pepper 
Preparation:
Boil the ingredients separately. Add the raw egg, 25g butter, nutmeg, salt and pepper to each ingredient and make 3 purees.

In a mold to make a bath of mashed potatoes, a layer of spinach on top and finally mashed carrots.

Bake in a water bath (180 degrees) until set egg, and decorate the plate with organic romesco sauce.
Extracted from: http://bit.ly/1qZDLaP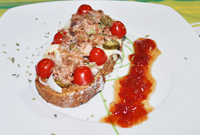 We present a dish with a simple recipe that you can very well go for a quick dinner . We accompany with organic spicy tomatoes marmalade that adds a touch of color and flavor.
Ingredients: 
2-4 thick slices of bread. The number of slices varies depending on the extent of the same or the hunger that you have. If bread is multigrain, much better.

cherry tomatoes cut in half: 2-3 Calculators for toast

1 spring onion chopped into large slices
2 cans of small tuna
pickles cut into slices
4 cutting cheese
oregano
Preparation:
Toast the bread slices.

You put the ingredients with a little grace. First make a layer of green onions and pickles, then add cheese and cherry tomatoes and finally the tuna on. With a little oregano on top.

Broil toast in the oven until cheese is melted and browning a little tuna.

Accompany with organic spicy tomatoes marmalade.
Extracted from: http://ow.ly/ufHEs