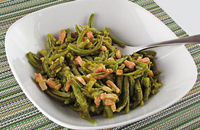 Today we present a recipe for the classic but healthier. The traditional green with our organic white onion "sofrito".
Ingredients:
500 g of green beans

½ cup water 

120 g diced bacon 

70 g of extra virgin olive oil 

150 g green pepper 

2 cloves of garlic 

salt 
Preparation:
First you cut the green beans and washed. Put them in a pot to boil water until tender (5-10 minutes)

You cut the peppers and cook in a pan with extra virgin olive oil, then you put the chopped garlic and the diced bacon. You let it cook a little and you add organic white onion "sofrito"  letting it cook for two minutes.

Finally you add the green beans and now you can you serve the dish with a little salt on the top (to taste)
Excerpted and adapted:: http://ow.ly/tVuwh
We present a very different way of eating spring onions made ​​into a cake, it will be fine  and it can accompany our organic romesco sauce .
Ingredients:
15 or 20 spring onions

6 eggs

100 ml. whipping cream

Olive oil

Salt and pepper
Preparation:
First make the spring onions in the oven. Cut off the tips and tails and remove the first layers.

Heat oven to 200 º C. We'll put them on a tray in the oven and add them to an oil jet.

Cook for 15 minutes turn it over and cook for 20 more minutes, watching not to burn. 

Once those are cooked let cool slightly.

Remove the first layer will be more golden . We will cut the spring onions into small pieces.

Beat the eggs and add the cream. We put it in a bowl along with chopped spring onions.

Salt and pepper to taste be generous because the calçot is a bit sweet.

Put the mixture into a mold (if better silicone).

We'll put it in the oven, water bath , at 200 ° C for about 35 minutes .

Once cooked let it cool slightly before removing from the pan.

Serve the dish with a dollop of organic romesco sauce.