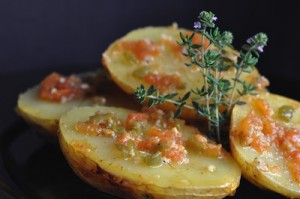 Today we offer you an old recipe, but we add a delicious innovation: the base of Hortus Onion Sauce.
In a mortar, chop the garlic with paprika and parsley. Then add the olive oil, two tablespoons of a roasted onion Hortus and let marinate while you prepare the potatoes.
In a large pot boil water and put the potatoes with skin, approximately 20 minutes or until soft. Once cooked, the drain and let cool a few minutes. Then peel them and cut them into slices 1 cm thick. Distributed in plates where we have.
The chopped, add the bread crumbs and the extensive carefully over the potatoes … Nothing, in 30 minutes we will have a good starter.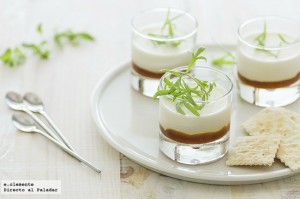 Ingredients:
100 g of Hortus Spicy Tomato Mermelade
125 ml milk
125 ml cream,
70 g finely grated Parmesan cheese,
1 g of agar agar, salt and pepper
Preparation:
Begin distributing the tomato mermelade in the bottom of the cups by a smooth layer.
Then put them in a saucepan the cream, milk and Parmesan cheese and agar agar, this I find in supermarkets or health food stores. We carry everything to a boil, stirring continuously with a whisk but slowly, trying not to make bubbles, let it cook for two minutes. Add a little pepper to taste and add salt.
Pour through a sieve the mixture spreading it between shots, we materialize a minimum of three hours. Serve chilled.
Recipe courtesy of Esther Clemente, Directo al Paladar
Almost a year ago we collected a range of delicious dishes that can be made with our products.
You have created a dish with our products? Want it different?
Do not hesitate. Send us an email to hortus@aprodisca.org with your recipe and do not forget to put your name and attach a photo of your creation.
Take a look to all our recipes >>>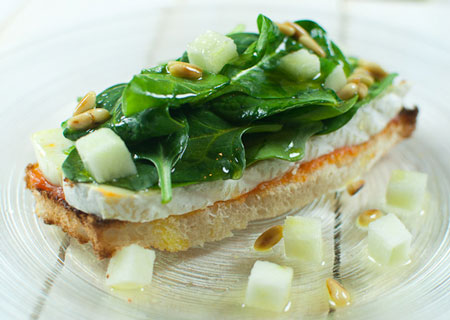 We present a fresh recipe for these hot days and already crave lighter dishes with our organic Orange Marmalade.

Ingredients (for 4 people):
4 slices of bread
250 g of brie
50 g of spinach
1 apple
60 ml extra virgin olive oil
10 ml apple cider vinegar
some toasted pine nuts
Mix the vinaigrette ingredients
Toast the bread and spread it with orange marmalade
Putting cheese, sliced ​​1 cm thick on bread
Heat the cheese toast in the oven for 1 minute
Add up the spinach and apple diced small
Dress it all with pine nut vinaigrette