This cheese is a good companion for jams, who has not tasted the typical goat cheese with tomato jam canape? This combination, but goes much further and is more surprising: provolone, with its spicy, perfectly matches our orange marmalade. Presented as cannelloni and decorated with chocolate, original desserts are easy to make, that will put the sweet spot for a meal inspired by the cheeses of our neighboring country.
Ingredients for 4 people:
100g cut thin slices provolone
1 tile to 75% chocolate

 

icing sugar (to decorate)
Make rolls with blades canotillos shaped cheese. Fill with orange marmalade and leave in the refrigerator 20 min.
Before serving, melt the chocolate in a double boiler. Cover part of the rolls with chocolate and powdered with icing sugar.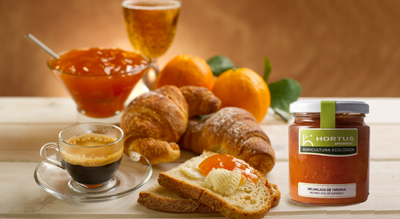 Every morning we cannot make a good healthy breakfast and charge up batteries, that's  why we offer our artisanal and organic orange marmalade considering fruit quality and ripeness. The processes are all carefully carried out by hand, laminating peel, peeling the fruit, chunky cut, separating the imperfections and slow cooking with its own juice.
This gives the best high quality product retaining all natural properties and an intense flavour. Of course there are not either added preservatives or colorants.
We present a very simple dish served with our Organic Romesco Sauce.
Ingredients:
6 monkfish tails
Cognac
Flour
Extra virgin olive oil
Salt and pepper
Put salt and flour to the monkfish tails and cook in a sauce pan with extra vergin olive oil.
Place the romesco sauce in the casserole, pour a good cognac drops to flare up then add the tails and cooking.
Still have not tried our products?
Then we give you five reasons to do so, because above all are great!
They are healthy, because they have the organoleptic properties of the finest raw materials very carefully selected.
Are organic because they contain no additives or chemicals of any kind.
Are homemade, because we build with traditional recipes, slow cooking and choice of ingredients thoroughly.
They are socially responsible, because we guarantee employment of people with disabilities in our social entity.
Locally produced  of our territory.
Where you can find them?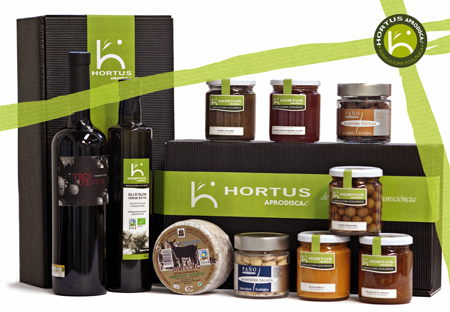 If you want to be original … Gives quality products, ecological and solidarity!
We present our ECO gift packs with products of territory, thus promoting traditional values ​​and gastronomic of our region.
We customize your gift to your taste and budget…

With your purchase you are contributing to our social project and do our entity may continue to work to improve the quality of life of people with intellectual disabilities, mental illness and / or at risk of social exclusion.