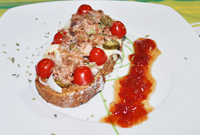 We present a dish with a simple recipe that you can very well go for a quick dinner . We accompany with organic spicy tomatoes marmalade that adds a touch of color and flavor.
Ingredients: 
2-4 thick slices of bread. The number of slices varies depending on the extent of the same or the hunger that you have. If bread is multigrain, much better.

cherry tomatoes cut in half: 2-3 Calculators for toast

1 spring onion chopped into large slices
2 cans of small tuna
pickles cut into slices
4 cutting cheese
oregano
Preparation:
Toast the bread slices.

You put the ingredients with a little grace. First make a layer of green onions and pickles, then add cheese and cherry tomatoes and finally the tuna on. With a little oregano on top.

Broil toast in the oven until cheese is melted and browning a little tuna.

Accompany with organic spicy tomatoes marmalade.
Extracted from: http://ow.ly/ufHEs