We'll leave you a simple recipe and quick to make.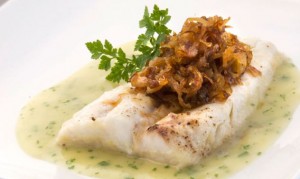 Ingredients:
1 whiting
Hortus Roasted Onion
2 potatoes
1 leek
1 glass of white wine
Salt, parsley and black pepper
Preparation:
Clean and chop the leek, put a jet of water in a saucepan and add the chopped leeks and potatoes. Season and cook for 10-12 minutes. Blend, strain and add the chopped parsley.
Season the fish, spread a little oil in a bowl, place the fish on top, pour a little oil and white wine. Bake at 200 ° for 6-8 minutes.
Make a bed with cream, place the whiting and on top the Hortus Roasted Onion.