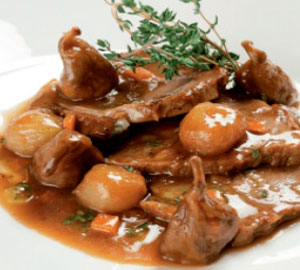 Now begins the season of figs, so, we present a dish made with this fruit and served with organic white onion "sofrito".
Ingredients:
1 cut round / 800 g veal

500 g dried figs

100 g Carrot

1 sprig of thyme

200 g of tomato

Stale wine 100ml

1/2 L of broth

Salt and pepper
To make the bite:
50 g of roasted almonds
1 cookie
2 sprigs of parsley
Preparation:
Roast the beef, seasoned to the pan or baking. Once very golden on all sides, add the head of garlic, cut tomatoes into quarters and carrots peeled and chopped into slices of 3 cm. Add, also, thyme and roasted onion. Leave it to cook for about 10 minutes and then you throw the stale wine. Let him reduce and add ye broth.

Let him bake three quarters of an hour, or until meat is tender. Remove yourselves meat and strain out the juice. Once the meat is cold Withdraw the thread, and reservadla cortadla.
You put the strained juice to fire again and add ye a snack made ​​with almonds and roasted peeled hazelnuts and cookie, along with the parsley.
Add the sliced ​​meat and let it warm up all together.
Put the figs, previously washed, blanched and let them cool in the same water, boil 10 minutes and let them take the strained juice before adding the meat cut.
Add 100 ml of white wine and let it simmer about 1 hour. Add the sliced ​​meat and juice and let it cook all together 5 minutes.