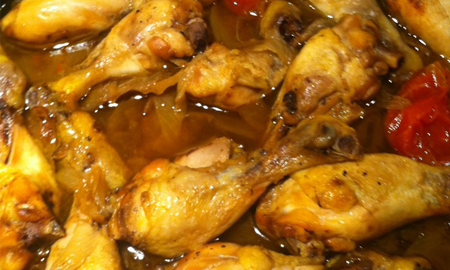 Now that the Christmas holidays approach, we propose a traditional recipe of organic chicken with organic white onion "sofrito".
 Ponemos una cazuela con todo el aceite y con el fuego muy fuerte.
Cuando esté muy caliente, añadimos el pollo y lo doramos por los dos lados, hasta que quede de color marrón (pero no quemado).
Un golpe hecho esto y sin bajar el fuego, ponemos el asado de cebolla ecológico y dejamos que se cueza algo más.
Añadimos el coñac y dejamos que se evapore el alcohol (unos segundos). Entonces ya podemos añadir el laurel, los ajos sin pelar, el tomate entero, la canela y el agua.
Bajamos el fuego al mínimo, tapamos la cazuela y lo dejamos cocer unos 20 minutos.