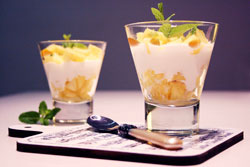 Today we present a very easy dessert that will have prepared him for a moment, you shall be like a gentlemen.
Ingredients:
1 fresh pineapple

2 Greek yogurt

fresh mint
Preparation:
We take the pineapple, peel and cut into small dice. To serve, we take the cups pineapple intersperse with Greek yogurt sweetened with orange marmalade, and repeat once more. To end the show we can put some mint leaves.
Extracted from: http://ow.ly/s0FGD 
We present a recipe that can be used perfectly for in these Christmas parties. We have used our organic romesco sauce.
Ingredients for 4 people:
8 loin cod

4 onions

Honey

Flour

Oil and salt
Elaboration:
Desalinating a cod with water keeping the refrigerator for 60 hours , water to change a couple times daily.

Cut the onion into strips and in a skillet over low heat, with a small stream of oil and a pinch of salt, let confitando stirring often. When you have picked a beautiful color we add a tablespoon of honey. More slowly when we do, the better the outcome.

We dried cod in paper towels, I floured and fried them in hot oil , starting with the skin side. After three minutes will turn and continue frying for a couple of minutes. We booked over paper towels because let excess oil.

To serve, place the cod over a bed of organic romesco sauce and crowned with caramelized onions.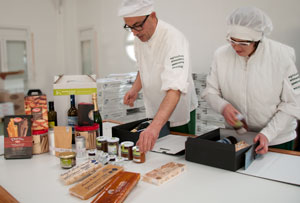 In Hortus we believe in the capabilities of each of the people working in our organization and a protected environment, get paid and set an improvement in their quality of life. Our aim is to create jobs and generate benefits that accrue in services and more resources for the territory.
Here is a small sample of one of the processes of Christmas campaign with Hortus products together with other artisans, cooperatives and organizations like ours.
We invite you to take a look and choose your gift for this year, we can customize to your taste and need.
We make an original proposal to decorate your home, is easy to do and it is spectacular. Use glass jars in a very funny way, you only need to choose to the photography you like more.
Materials:
3 Bottles of glass (or those who want to)

Scissors

Role of 80 or 90 g

Glue sticks

Brown rustic twine (if you want)

Small candle or big
Elaboration:
Choose to set yourselves photographs that you like and print the printer.

Cut a 23 cm x 6 cm ( in this case), paste the ends and out of the bottle, without engaging the surface of glass, and you can switch pictures as often as you want.

If you want to give a more original touch can put a string or colored ribbon around the top, in this case we used the brown rustic twine.

The candle gives you a very warm light , you can use smaller or bigger, so will not have to change them so often.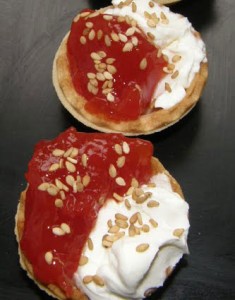 We present a dish to make a pica pica, good, very simple and very colorful with our organic spicy tomatoes marmalade.
Ingredients:
Tartlets

Philadelphia cream cheese type

Sesame
Preparation:
Each tart put a teaspoon of cheese and organic spicy tomatoe marmalade.

Ending slightly above sesame.
Extrated from: http://www.lestevesreceptes.cat/click/index/891156/?site=crijoarmael.blogspot.com