We present a very different way of eating spring onions made ​​into a cake, it will be fine  and it can accompany our organic romesco sauce .
Ingredients:
15 or 20 spring onions

6 eggs

100 ml. whipping cream

Olive oil

Salt and pepper
Preparation:
First make the spring onions in the oven. Cut off the tips and tails and remove the first layers.

Heat oven to 200 º C. We'll put them on a tray in the oven and add them to an oil jet.

Cook for 15 minutes turn it over and cook for 20 more minutes, watching not to burn. 

Once those are cooked let cool slightly.

Remove the first layer will be more golden . We will cut the spring onions into small pieces.

Beat the eggs and add the cream. We put it in a bowl along with chopped spring onions.

Salt and pepper to taste be generous because the calçot is a bit sweet.

Put the mixture into a mold (if better silicone).

We'll put it in the oven, water bath , at 200 ° C for about 35 minutes .

Once cooked let it cool slightly before removing from the pan.

Serve the dish with a dollop of organic romesco sauce.
Today we present an easy and tasty recipe, giving a very unique contrast to the saltiness of the cod and sweet of the organic spicy tomatoe marmalade.
Ingredients:
Cod chopped

Milk

Flour

Onion

Filo pastry

Oil and salt

Nutmeg and pepper
Preparation:
We begin to saute the onion over medium heat until very soft and it almost transparent. When it done , add the chopped cod and let it cook for about five minutes or until you have lost all the water has evaporated , add the flour (two tablespoons for a quart of milk ) and leave that integrates with cod , once the flour no longer note , and add the milk , stirring constantly , wait until the sauce thickens . Check the salt and add pepper and nutmeg.

You can wipe the blender if you want me to stay softer. Let cool .

Meanwhile, prepare the baking tray with baking paper and carefully, we will make the thread Atillos pasta, filling them with one or two tablespoons of cod and closing them carefully. We will put in the oven until they pick the tan

Finally decorate the plate with organic spicy tomatoe marmalade and mint leaves .
Excerpted and adapted from: http://ow.ly/sU0BX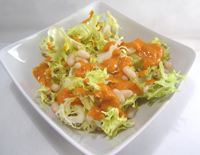 We present a very simple salad but with very good results, sauteed with our organic romesco sauce that adds a touch of good taste and color.
Ingredients for 2 people:
Preparation:
Clean the escarole and centrifuge well and place in a bowl mixed with baked beans and sauté with organic romesco sauce.
Extracted from: http://ow.ly/syLfc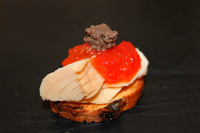 We present canapés made ​​in 5 minutes and they are very good. Our spicy tomatoe marmalade gives a touch of color.
Ingredients:
Albacore or tuna

Tapenade

Toast bread (can be homemade or purchased, the ones you like thin or thick with berries or raisins as photo)
Preparation:
Placed on top of each toast a piece of tuna over a spoonful of organic spicy tomatoe marmalade and finally a bit of tapenade.
Our couch is now ready!
Extracted from: http://ow.ly/skak8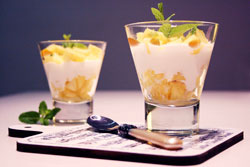 Today we present a very easy dessert that will have prepared him for a moment, you shall be like a gentlemen.
Ingredients:
1 fresh pineapple

2 Greek yogurt

fresh mint
Preparation:
We take the pineapple, peel and cut into small dice. To serve, we take the cups pineapple intersperse with Greek yogurt sweetened with orange marmalade, and repeat once more. To end the show we can put some mint leaves.
Extracted from: http://ow.ly/s0FGD