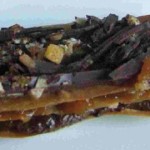 We present a delicious dessert with our Organic Orange Marmalade, a very special recipe courtesy of  
restaurant LALÀ
 Tàrrega, and 
+bio
 has offered in Nougat Fair Agramunt of 12, 13 and 14 October 2012.
Chocolate mousse
(10 servings)
185 g of chocolate
7 eggs
15 g of butter
50 g sugar
Procedure:
Back out the chocolate + butter at (water bath).
Mix with sugar rust. We add yolks + sugar chocolate (double boiler).
We set the egg whites until stiff (pinch of salt).
We mix it all!
To make the crispy:
We syrup: 200 g of mineral water + 100 g sugar (heat). 1 sheet of gelatin immersed in cold water, drain it and mix it with hot water + sugar.
Cut the phyllo dough sheets to our liking, we layered in threes and put them together with a very wet brush with the syrup.
Cooking: 180 ° C / 10 minutes
Cool cooked pasta hit.
First layer: chocolate mousse
Second layer: organic orange marmalade HORTUS APRODISCAe
Top layer: we crossed the chocolate with orange and guarnimos to our liking.
Calafell held on Saturday 13 October the World Food Day, with the aim of promoting healthy eating habits, especially among youth, as recent studies warn of increased health problems this age of the population, especially due to poor eating habits.
This year, the Youth Department of Health and the Ajuntament de Calafell wanted to celebrate World Food Day with a new format that includes a banda, papers explaining healthy eating habits and the the other, a sample of initiatives production quality, healthy and proximity to our town. All these activities take place at the municipal beach of Calafell.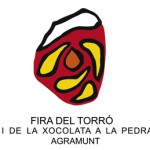 On 12, 13 and 14 October 2012 
Fair held Agramunt Nougat
 and at booth no.7 
+ bio
 can taste our organic products. The find at the end of agrifood pavilion, where you can see the products we feature bio + for the holidays and the wide range in 
organic Christmas Lots
.
And new! our jams are served with chefs known recipes of our land!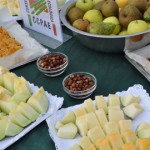 HORTUS will be present on 10 and 11 October in an
ECO CATERING
Institutes of Calafell Cami de Mar and La Talaia de Segur de Calafell, on the occasion of
World Food Day
October 16, 2012. A culinary and cultural event entertained with a variety of kinks tasting with seasonal organic vegetables from our farms HORTUS APRODISCAe, all accompanied with organic fruits and juices.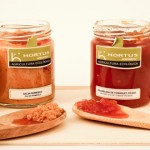 The HORTUS organic romesco sauce and the spicy tomatoe marmalade , will be displayed throughout the day on the Pantori site www.pantori.es. A project created by La bici roja y la Salsera that every week will bring you closer to producers like us, whom present carefully executed culinary gems that become indispensable in our home storeroom but hard to find in conventional supermarkets.