Calafell held on Saturday 13 October the World Food Day, with the aim of promoting healthy eating habits, especially among youth, as recent studies warn of increased health problems this age of the population, especially due to poor eating habits.
This year, the Youth Department of Health and the Ajuntament de Calafell wanted to celebrate World Food Day with a new format that includes a banda, papers explaining healthy eating habits and the the other, a sample of initiatives production quality, healthy and proximity to our town. All these activities take place at the municipal beach of Calafell.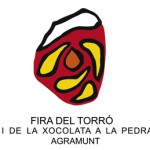 On 12, 13 and 14 October 2012 
Fair held Agramunt Nougat
 and at booth no.7 
+ bio
 can taste our organic products. The find at the end of agrifood pavilion, where you can see the products we feature bio + for the holidays and the wide range in 
organic Christmas Lots
.
And new! our jams are served with chefs known recipes of our land!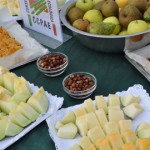 HORTUS will be present on 10 and 11 October in an
ECO CATERING
Institutes of Calafell Cami de Mar and La Talaia de Segur de Calafell, on the occasion of
World Food Day
October 16, 2012. A culinary and cultural event entertained with a variety of kinks tasting with seasonal organic vegetables from our farms HORTUS APRODISCAe, all accompanied with organic fruits and juices.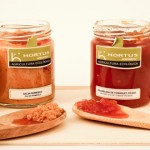 The HORTUS organic romesco sauce and the spicy tomatoe marmalade , will be displayed throughout the day on the Pantori site www.pantori.es. A project created by La bici roja y la Salsera that every week will bring you closer to producers like us, whom present carefully executed culinary gems that become indispensable in our home storeroom but hard to find in conventional supermarkets.
We present a funny cap and giving a different touch with our Organic Spicy Tomatoe Marmalade.
Ingredients for 4 people:
2 flour wafers (Bimbo)

olive oil

a branch of basil

Brie cheese 200g

3 canned sardines in oil

pickles
One of the interesting things about this recipe is that most of the ingredients can be prepared the day before leaving. The first thing you can do is chop the basil and put it in a glass bottle with 200 ml of olive oil. Also the day before, you can leave cut pickles. Cut them in half and make small squares.
To mount the cover, first cut two rectangles of each wafer and wiping the plate with a little oil. When they caught a tan, you can remove the wafers and you will see how, once, are rigid and toast. We distributed jam slightly above the wafer. We put the two strips of brie. On top of the brie, the two backs will no spine sardine or the gut, which is important is that they are preserved with oil and pickled, they would kill the taste of the other ingredients.
To decorate the plate, put the pickle and perfumaremos scattered throughout with basil oil.