Today we present a traditional dish of Catalan cuisine, ideal for autumn with input from the cold and is made with organic whithe onion "sofrito" as a culinary base.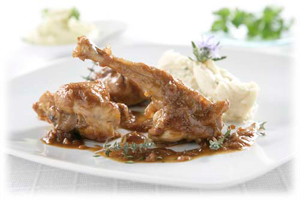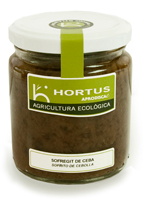 Ingredients for 4 people:
1 rabbit farm 1 kg and 200 g approx. purchased clean
3 large tomatoes
3 potatoes
40 g butter
4 tablespoons of Organic white onion "sofrito" Hortus Aprodiscae
Half a glass of water and half a glass of white wine
6 cloves of garlic
Laurel
Extra virgin olive oil
Salt
Preparation:
We wash the potatoes and introduced into a pot unpeeled. Cover with water and salt, cover the pot and simmer for 20 minutes. Let them temper in the same cooking water.
While still hot inside, peel and pass through a food mill over the butter at room temperature. Add salt and pepper, mix homogeneously and reserve the puree.
Cut the rabbit into pieces keeping the shoulders and thighs whole, in a clay pot with a little oil gilded pieces of rabbit.
Once a golden, about 10 minutes. The reserve. In the same pan and oil add the tomatoes cut into cubes without skin and seeds and whole garlic slices.
Stir a little. And then we pour the water, wine, bay leaves and rabbit we had booked.
Cover the pan and let simmer about 45 minutes. During we are stirring and let's see if we need to add a little water.
In parallel, add spoonfuls of fried organic white onion "sofrito", and leave about 15 minutes.
We can serve the dish accompanied by mashed potatoes.
Excerpted and adapted from and photograph: http://ow.ly/TQDx8  http://ow.ly/TQDNK
Where can you find our organic white onion "sofrito"?
We present a very simple but very tasty recipe that is sure you will like, with a special touch of organic spicy tomato marmalade.
Ingredients:
Elaboration:
Cut the Camembert into eight portions. Spending lots in the flour, then beaten egg and finally the breadcrumbs. Put an hour in the refrigerator.
Put the fire in a pan with olive oil frying portions over low heat until golden. Take it out and put it with paper towels.
Serve the dish with cheese and organic spicy tomato marmalade.
Excerpted and adapted from: ow.ly/SsQ3W
Where can you find our organic spicy tomato marmalade?
We present a recipe from Italy and adapted to our pleasure to add a different touch with our organic white onion "sofrito".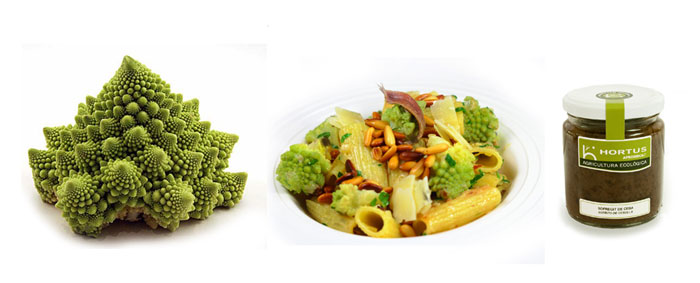 Ingredients:
1brécol romanesco
1 small can of anchovies with oil
2 tablespoons of organic white onion "sofrito" HORTUS APRODISCAe
2 cloves garlic, crushed
Pasta (to taste)
Extra virgin olive oil
1 handful of pine nuts
Fresh parsley, chopped
Flakes of Parmesan cheese
salt
Preparation:
We begin by separating the branches of romanesco broccoli and steaming it between 15 and 20 minutes. Very cool immediately in cold water so they do not lose chlorophyll and drain.
Cook the pasta in a pot with lightly salted water. Cooking time to follow the manufacturer's instructions. Drain the pasta.
Brown the pine nuts with a pinch of salt in a skillet or wok. When browned, remove from pan and set aside on paper towels.
In the same skillet or wok, fry the crushed garlic and add the organic white onion "sofrito".
Add items anchovies and mix well.
Pour the pasta, stirring to mix well. Gradually add romanesco broccoli florets and stir with a wooden spoon to mix everything well.
Add the toasted pine nuts over the pasta in each dish just before serving sprinkle the chopped parsley and Parmesan flakes.
Excerpted and adapted from: http://ow.ly/Ilg0c
Now that is calçots season, we present a fantastic recipe with cod and our organic romesco sauce which is ideal for this type of dishes.
Ingredients:
4 pieces of 160 g cod
20 spring onions
Preparation:
First, coceremos the onions baked. If possible, we will make best grilled. Once cooked, the peel and separate
Cook the grilled cod, watching that the skin is crispy. We'll leave it slightly crude, so it does not dry
The onions spend the plank for catch some color and served the dish with cod up and organic romesco sauce around.
Excerpted and adapted from: http://ow.ly/HCg0Q
El Corte Inglés held from January 16 to February 21, the third sample products of Catalonia, which occupy more than 300 m2 and will be held in the two emblematic centers of Barcelona (Pl. Catalunya and Diagonal) and those of Sabadell and Tarragona. In recent editions, participated about 350 producers and presented more than 1,800 items from all parts of Catalonia.
This action represents a promotional tool for the agricultural products of our territory by contacting one of the leading distribution groups, with the aim of offering new openings of sales channels, promote the product with outstanding relevance within the larger surface and enhancing brand image.
Hortus expose their organic products as promotion of local products Conca de Barbera with collaboration County Council presented with the participation of Vinumconca that will take care of exposure for sale of products at the fair.
We participate producers throughout our territory and we invite you to discover, taste and enjoy some of these gorgeous wines, champagnes, oils, cheeses, rice, jams … through the program of presentations, tastings and pairings of the fair.
Hope it will serve to publicize our organic products with such dedication elaborate.
With your purchase you contribute to our social project!