In order to approach organic food while contributing to the local development of our territory, we have prepared lots of organic products produced by us and other local organic farmers.
Be original, give quality products, organic and with the added value of promoting a social project!
Take the opportunity to enjoy the exclusivity of our products
Look at them, we can adapt to your needs, leave us a message telling us how we can help you or call 977 86 07 68. We can customize together your pack design.
Conditions:
Prices already include VAT and delivery fees not included.

The payment is to be agreed by both parties

Delivery will be made at the place and date you specify.

Ask us for your gift in wooden box.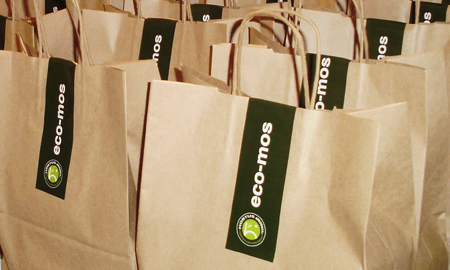 We present the ECOMOS. Specially designed for business events or institutions outdoors.
A healthy breakfast
and ready to take it anywhere!
We offer 4 options
ECOMOS – SAUSAGE
 ECOMOS – VEGETAL
Sausage sandwich
Piece of fruit (to be determined)
Fruit Smoothie
Vegetable sausage sandwich
Piece of fruit (to be determined)
Fruit Smoothie
 ECOMOS CHEESE
 ECOMOS TOFU
Vegetable Cheese Sandwich
Piece of fruit (to be determined)
Fruit juice
Vegetable Sandwich with Tofu
Piece of fruit (to be determined)
Fruit juice
For further information and inquiries, contact us at 977 86 07 68 or leave a message, tell us your needs and we will contact you.
Menus Company
Proposed Hortus APRODISCAe eco autumn-winter menus
MENÚ 1
MENÚ 2
MENÚ 3
MENÚ 4
Salad of the season
Rice with vegetables
Pumpkin cream
Soja Bolognese Macaroni
Bolognese
 Beef stew
amb patates laminades
 Chicken thigh
al forn amb ceba confitada
  Grilled Sausage
amb amanida de pa torrat
Braised seitan
with sauteed vegetables
 Fresh fruit or baked apple or yogurt
Bread and drinks
Remember to contract Hortus services fulfill the legal requirements of the LISMI (Law 13/1982 of 7 April, Social Integration of the Disabled) and embodied actions of corporate social responsibility (CSR) within your organization.
We can create custom quotes, for more information and inquiries, contact us at 977 86 07 68 or leave us a message, tell us your needs and we will contact you.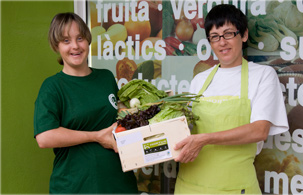 At Hortus shop we offer certified organic foods and products, fruits and vegetables, nuts, olive oil, cakes, jams and preserves.
As well you can find certified organic food from other producers: baby food, celiac, delicatessen, dairy, herbs, teas, pasta, vegetables, seaweed, juice, bread, organic meat, wonderful wines, etc.
In our store you'll find everything you need for a healthy and nutritious food for your family.
With your purchase of healthy foods and environmentally concerned, you are contributing to make possible employment and social integration of people with special needs.
Visit our store  in Montblanc:

Ver mapa más grande
Opening Summer Hours:
From Monday to Friday:
10.30 to 14.00 and 13.30 to 21.00
Av. Doctor Folch, s/n
Montblanc
Tel. 977 861 910
You can make your order calling 977 861 910, you can also send your order by email hortus.botiga@aprodisca.org
Where can you find the Hortus products?
Organic Products in our store of Montblanc:
Algae – Baby Food – Gluten Free Food – Snacks – Beverages – Meat and sausage – Cereals, flour and dried – Canned – Sweets, pastries and coffee – fresh fruit and vegetables – Nuts – Teas, herbs and spices –  Hortus Products – Dairy products and eggs – Oil and vinegar – Bread – Pasta – Precooked – Rice – Beans –
Our crops and other crops organic farmers manufacture a wide range of certified products: canned vegetables, sauces, culinary bases, jams, nuts, olives, extra virgin olive oil, creamed vegetables and baby food. Foods that we offer are the result of a rigorous homemade: traditional recipes, slow cooking, a selection of ingredients thoroughly.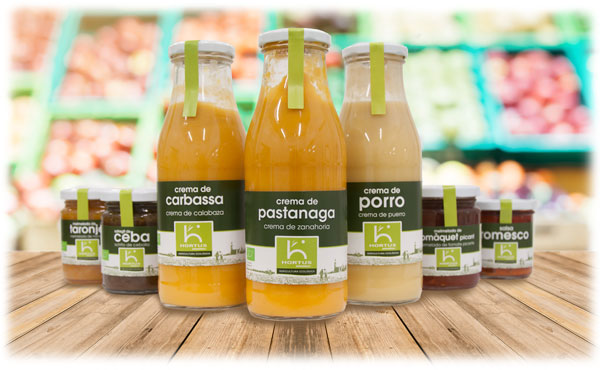 Marmalades, sauces, nuts, olives and extra virgin olive oil, all organic.

Organic spicy tomatoes marmalade 280 g
Organic orange marmalade 290 g
Organic white onion "sofrito" 220 g
Organic romesco sauce 140 g / 660 g
Organic "arbequines" olives 100 g
Organic extra virgin olive oil 250 ml / 500 ml
Organic ketchup 275 g
Organic tomato sauce "sofrito" 290 g
Organic pesto sauce 140 g

Organic creams

Organic leek cream 500 ml / 1 L
Organic pumpkin cream 500 ml / 1 L

Organic gifts

Organic tastings pack 160 g (4 units x 40 g)

Organic baby food

Jar of steak with organic vegetables 180 g
Jar of chicken with organic vegetables 180 g
Where can you find them?
LEGAL NOTICE
Responsibility for content and commercial offers
HORTUS APRODISCAE is the trademark of the Association Pro Persones amb Psychic DECREASE the Conca de Barbera (hereinafter APRODISCA), amb CIF G43069749. APRODISCA acts as a starter, motivator and manager of content of this website.
Any other commercial, advertising, commercial, administrative and procurement of goods and / or services is the sole responsibility of the mentioned company, the owner of this domain and which operates under the brand HORTUS APRODISCAE, attending to business and management issues to following address:
C /. Josep Maria Poblet, 1 43400 Montblanc (Tarragona)
DEFINITION OF USER
The use of Web attributes the condition of user and implies full and unreserved acceptance of each and every one of the provisions included in this Legal Notice in the version published by APRODISCA at the same time the user accesses the Web . Consequently, the user must carefully read this Legal Notice in each of the occasions on which she intends to use the Web as it can be modified.
INFORMATION LINKS
APRODISCA not responsible for external websites to which links can be accessed through "links" or any content provided by third parties.
Any use of a link or access to an external website is made by will and exclusive risk of the user and APRODISCA not recommend or guarantee any information obtained through a link outside the APRODISCA Web or liable for any loss, claim or injury resulting from the use or misuse of a link, or information obtained through it, including other links or websites, interruption in service or access, or attempt to use or misuse a link, either to connect to the Web APRODISCA as to access information from other Web sites from APRODISCA.
Links or links from other external websites
Expressly forbidden to link to pages that contain http://www.hortusaprodiscae.org from demonstrations or propaganda of racist, xenophobic, pornographic, against terrorism, against human rights or any other unlawful or contrary to morality and public order. In no case may imply or state that intervenes APRODISCA, endorses, promotes, participates or has supervised in any way the content of the page where the link appears, not only that his foray consent, except express authorization.
INFORMATION ON USE OF COOKIES
This web may be using cookies in some pages. The purpose of these cookies is to improve the service we offer to our clients and visitors.
Cookies are small data files that are generated in the user's computer and provide the following information:
* Date and time of the last time the user visited the Web.
* Design of content that the user chose in his first visit to the Web.
* Security elements involved in controlling access to restricted areas.
DISCLAIMER AND LIMITATION OF LIABILITY
The information and services included in or available through the Website may include inaccuracies or typographical errors. From changes are made periodically to the information. APRODISCA be entered in any improvements and / or changes in the services or content.
APRODISCA has obtained the information and materials on the Web from sources considered reliable, but although they have taken appropriate steps to ensure that information is accurate, not guaranteed to be accurate and updated.
Also notice that the contents of this website, serve two purposes, for informational purposes regarding the quality, location, rates and other services and product sales as provided in this legal notice and all other legal texts This Web.
INFORMATION ON THE LIABILITY EXEMPTION ARISING FROM A TECHNICAL FAILURE AND CONTENTS
APRODISCA declines any responsibility in case of interruptions or malfunction of the services or content offered on the Internet, whatever their cause. Also APRODISCA not responsible for network outages, loss of business resulting from these drops, momentary discontinuations of the electric or otherwise. APRODISCA not represent or warrant that the services or content will be uninterrupted or error free, that defects will be corrected, or that the service or the server that makes it available are free of viruses or other harmful components, subject to that APRODISCA makes every effort to avoid such incidents. In case the User shall take certain decisions or carry out actions based on the information contained in any of the websites, it is recommended to check the information received with other sources.
INTELLECTUAL PROPERTY
The contents provided by APRODISCA and the contents stated in the network through their Web pages, are a work in the sense of intellectual property law so they are protected by laws and international conventions on the subject.
Any form of reproduction, distribution, public communication, processing, disposal and, in general, any other deed of public procedure referring both Web pages and their content and information, without the express prior written consent of APRODISCA.
Consequently, all the content displayed on different websites, especially design, text, graphics, logos, icons, buttons, software, trade names, trademarks, industrial designs or any other signs susceptible to industrial and commercial use are subject to intellectual property rights and industrial APRODISCA or other owners of rights who had duly authorized its inclusion in the different websites.
The contents, images, forms, views, indexes and other formal expressions that are part of Web pages as well as the necessary software for the operation and display them, are also a work in the sense of copyright and are, therefore protected by national laws and international conventions on intellectual property that may apply. Failure of the above involves the commission of serious wrongdoing and punishment by civil and criminal law.
Any act by virtue of which the users of the services or contents can exploit or use commercially, directly or indirectly, in whole or in part, of any content, images, forms, indexes and other formal expressions that are part of Web pages without prior written permission of APRODISCA.
In particular, and without limitation, it is prohibited to reproduce, distribute, display, transmission, broadcasting, emission in any form, stored in hardware or software (eg, floppy or hard disk of computers), scanning or making available from databases other than those belonging to the authorized by APRODISCA and its translation, adaptation, arrangement or any other form these opinions, images, forms, indexes and other formal expressions that are made available to users through services or content, as such acts are subject to applicable laws regarding intellectual property, industrial or image protection.
APRODISCA is free to restrict access to Web pages, and the products and / or services offered there, and the subsequent publication of the opinions, views, images or comments that users can reach him via email.
APRODISCA in this sense, may, at its discretion, subject to the sole and exclusive responsibility of the Users, the filters necessary to prevent through its website to spread in the network contents or opinions considered racist, xenophobic, discriminatory, pornographic, defamatory or which in any way could generate violence or the propagation of contents clearly illicit or injurious.
The Users sending to APRODISCA website, to your department, suggestions, observations, opinions or comments via e-mail service, unless they express the true and unmistakable manner otherwise, in cases where the nature services or contents this could be possible, it is understood that authorize APRODISCA for reproduction, distribution, display, transmission, broadcasting, emission in any format, storage in hardware or software (eg, floppy or hard disk of computers), digitalization, availability from data bases belonging to APRODISCA, translation, adaptation, arrangement or any other alteration of such observations, opinions or comments, during all the time of copyright protection that is provided for by law.
It is understood that this authorization is granted for free, and that the mere fact of sending by email such observations, opinions or comments, the Users decline any remuneration claim of APRODISCA.
According to what is stated in the previous paragraph, APRODISCA is also authorized to proceed with the modification or alteration of such observations, opinions or comments, in order to adapt to the needs of the editorial format of Web pages, without thereby be understood exists at all any injury to any of the moral of copyright that users might hold over them.
The use of any of the technical, logical or technological whereby a third party may benefit, directly or indirectly, with or without profit, every one of the contents, forms, indexes and other formal expressions that are part of Web pages, or carried out by APRODISCA for operation.
Specifically, any link, hyperlink, framing or similar link can be established towards APRODISCA Web pages without the express prior written APRODISCA Any violation of the provisions of this section shall be considered as damage to the legitimate intellectual property rights APRODISCA on Web pages and all contents thereof.
APRODISCA not assume any responsibility for any consequences arising from the behaviors and performances mentioned before, just do not assume any responsibility for the content, services, products, etc., Of third parties that may be accessed directly or through banners, links , hyperlinks, framing or similar bonds from APRODISCA websites.