Known informally as "vegetable meat" because of its high protein content and its appearance, seitan is a food of Chinese origin although its use is common in the rest of Asia and, increasingly, around the world whole.
What is seitan?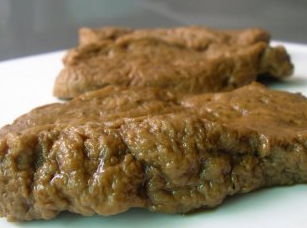 The seitan is obtained from wheat flour. It is the gluten (wheat protein), previously separated from starch and yeast, cooked with other ingredients like soy sauce, ginger and seaweed.
Its appearance is that of a spongy mass of brownish color.
We can make at home in a process that is not difficult or time-consuming but can be found ready-made in stores, usually vacuum packed.
Properties seitan
It has a high protein content.
It is low in calories and fat.
It has no cholesterol and helps lower their levels.
Note: As the seitan is made from wheat gluten base is not suitable for people with celiac disease (gluten intolerance)
How to cook seitan?
We can use the kitchen as if flesh, stews, meatballs, filleted over pasta, rice or soups, etc…
Practical Tips
The homemade seitan can last in the refrigerator for 3 or 4 days preserved in sauce so it does not dry out. What we buy in the store, have an expiry date on the package.
In our shop Hortus Aprodiscae Montblanc will find different types of seitan and certified organic. Bon appetit!
An organic food is one that has been developed using the principles of organic farming in Europe (EC) No 834/2007, which aims to obtain high-quality food, healthy, nutritious, tasty and free of waste, respecting the environment. Preserves both plant and animal biodiversity and promoting sustainable local development and food sovereignty in the territories.
Its basic principles are:
1. Respect the natural fertility of the earth and its cycles.
On organic farms, using agroecological management techniques that are environmentally friendly and can produce pounds of food waste. These techniques include:

Fertilization organic soil that allows plants are fed a more balanced and thus are less susceptible to attack by insects and fungi.
Crop rotation, changing them from place each season to break the life cycle of insects of each crop and thus prevent its spread.
Conservation and increase beneficial insects that control pests biologically.
The cultivation of resistant varieties.
The use of traps and lures for insects.
Growing plants that make "insecticides" natural garlic and some herbs, such as parsley or thyme.
In contrast, conventional farming typically used synthetic fertilizers, which are environmentally friendly and have a negative impact on biodiversity: For their elaboration usually use non-renewable energy, used in excess contaminate underground reserves of water and its recurring use can impoverish the soil and reduces bacterial fauna.
2. Preserving Biological Diversity: Varieties, species and breeds.
Organic farming preserves the variability among living organisms from ecosystems (terrestrial, marine, water, …) then do not use aggressive techniques to the environment as it does conventional agriculture involving the removal of land for flood create reservoirs for irrigation, displacement of wildlife by domestic livestock, the use of pesticides and the introduction of monoculture.
3. Do not use chemicals such as pesticides, insecticides, fungicides or herbicides, thereby minimizing the ecological footprint.
The ecological footprint is the impact of human activity on the environment expressed in hectares of land is required for the kind of life we lead.
Agriculture and livestock to minimize the ecological footprint in the production of food for our consumption.
4. It does not use genetically modified organisms.
Genetically modified organisms (aka GMOs) are plants and animals whose genetic material has been altered through scientific methods.
Are prohibited in organic farming for risks that may lead to health (may increase the risk of allergies, antibiotic resistance and possible effects of the immune system), but also by environmental risks and genetic contamination with consequent reduction of biodiversity.
5. Making responsible management of resources.
It is a sustainable use of natural resources: water, land, energy required, the waste management and so on.
6. The most respected animal welfare.
That is, a place and ensures adequate living conditions for farm animals to prevent their continued suffering.
This means that you must respect the needs of animals:
Do not suffer hunger or thirst
Do not suffer fear or anxiety
Do not suffer physical discomfort or pain, injury or disease
They can develop their normal and essential
7. Very restricted use of food additives.
Food additives are substances added to food to modify the organoleptic or to improve the preparation and / or preservation.
In the organic food are only allowed to use those additives necessary to ensure food safety.
How can you identify an organic food?
You can find it in stores as of Hortus Aprodiscae the name of ecological, organic, biological, ecological or bio.
All other classifications (eg "natural", "healthy", "diet", etc) does not refer specifically to organic products.
In addition, if you want a guarantee that it is an organic food must be certified by the relevant regulatory authorities. In the case of Catalan products does the Catalan Council of Ecological Agricultural Production (estates) and the European Union.
Identified visually through the seals and the estates Euroleaf.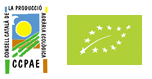 Today we will discuss the Quinoa, a seed native to the Andean region of America. The Incas called it "chisaya mama" meaning mother of all grains.
What is Quinoa?
Quinoa, though apparently looks like a grain, it is not. Actually it is a plant of the family amarantàcies as chard and spinach. It is mainly cultivated for its edible seeds, cream and tiny as sesame
Properties of Quinoa
It has a high protein content (12-18%).
It contains all the essential amino acids.
It is rich in dietary fiber, phosphorus, magnesium and iron.
It is easy to digest.
No gluten so it is an ideal food for people with celiac disease.
How to cook quinoa?
Quinoa is very versatile and can be used in both sweet and savory dishes. The most common way is to cook it like rice or cous-cous, cooked with vegetables like Risotto, for example.
Practical Tips:
Before cooking it must be washed with water several times to remove the saponin, a bitter substance that protects much of parasites.
For your cooking must be done in twice its weight in water or broth for about 12-15 minutes on low heat. Most of the seeds have to bust up
There are many reasons to eat organic food.
We are sure that if we asked each person entering the store Montblanc Hortus Aprodiscae we behave a good surprise the large number of reasons.
We summarize it in 10 reasons:
They are tasty. With organic food tastes authentic and original return, plus seasonal foods are consumed at the right time.
Healthy. Organic food usually have a high concentration of nutrients, vitamins, minerals and fatty acids.
They are safe. Organic food strictly comply with all applicable food safety standards.
Help preserve the environment and reduce carbon footprint. Used agroecological pest management techniques which minimize the impact of agricultural activities on the environment.
They are produced without pesticides or chemical fertilizers, which gives rise to free food waste, in addition to not pollute the environment.
Do not use genetically modified organisms (also known as GM) for risks that may lead to health (possible allergies, antibiotic resistance and immune system effects), but also by environmental risks and genetic pollution and decrease biodiversity.
The most respected animal welfare, thus ensuring a proper and living conditions of farm animals to prevent their continued suffering.
Animals not treated with preventive antibiotics or hormones, in order to avoid having waste into products that reach consumers.
It restricts the use of additives essential to ensure maximum food safety.
Are strictly regulated by European standards and be certified by accredited bodies to do so. In Catalonia is carried out by the estates.
Why buy Hortus APRODISCAe?
To generate social value: Hortus Buying in contributing to the creation and maintenance of jobs for people with intellectual disabilities, mental illness and / or social exclusion working in our organization.
Because values that territorial Buying in Hortus're promoting the dignity of farmers and producers of our rural counties and contribute to local development and food sovereignty of Catalonia.
And you … what are your reasons? 😉
Tofu is a food that has become popular recently in our house and, therefore, is still largely unknown to many of us.
What is Tofu?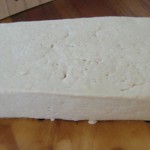 The tofu was born in China and consists of soybean curd juice. It would be easy to do, a kind of bean curd.
The tofu cool find more or less water content as: soft tofu, firm tofu and tofu dry. We also find tofu processed, made from fresh tofu.
Properties of Tofu
The soybean protein has the same quality as animal protein. So many people use it as a substitute for meat.
Tofu is a food low in fat (less than 5%), which helps lower blood cholesterol levels.
It has calcium, magnesium, phosphorus and zinc.
It should be clarified that most of the soya is GM's supermarkets. To avoid this you have to choose from organic soy, certified as such.
How to cook tofu?
The taste of tofu is neutral, making it ideal for combining with other foods. Besides its texture makes it permeates the taste of his companions.
We can cook soups, stews, at Plaxo, fried into patties or meatballs, sauces, etc..
Practical tips:
You should keep it in the refrigerator covered with water should be changed daily (maximum open once a week).
It is advisable tofu cooked (boiled, fried, stewed …) or marinated to remove any bacteria.
It is not advisable to combine it in sweet dishes as indigestible and can not properly assimilate protein.
In our store you will find  certified organic tofu. Bon appetit!