If you like zucchini … we propose an easy and healthy way to cook. What you can accompany our organic romesco sauce.
Ingredients:
1 1/2 lbs zucchini (about 4 – 5 small/medium zucchini)

2 Tbsp olive oil

Zest of 1 small lemon (1 tsp)

2 cloves garlic, crushed through a garlic crusher or finely minced

3/4 cup finely shredded parmesan cheese

Salt and freshly ground black pepper
Preparation:
Preheat oven to 350 degrees. Line a rimmed cookie sheet with aluminum foil.
Cut zucchini into thick wedges or halves (cut each zucchini in half then that half in half, so you have 4 wedges from each zucchini. Next time I might try to do just halves so the parmesan bakes more evenly, plus it would be easier to add the parmesan).
In a small bowl, stir together olive oil, lemon zest and garlic.
Align zucchini on prepared baking sheet spacing them evenly apart.
Brush olive oil mixture over tops of zucchini (working to get some of the garlic/lemon zest on each piece and not just in one spot. It clumps together a little so just spread it out).
Sprinkle tops with parmesan cheese (try to get as much of it on the tops as possible, you can pick up what was sprinkled off to the sides of the zucchini and add it to the tops) and season lightly with salt and pepper. Bake in preheated oven 11 – 13 minutes then, adjust oven rack near top of oven and broil for several minutes until parmesan is golden brown.
Serve hot and can accompany with an organic romesco sauce.
Extracted from: http://ow.ly/DMAPs 
We present an easy and tasty dish for those who like nothing better than to accompany it with our organic romesco sauce.
Ingredients:
Your favorite pasta
Prawns or shrimps
Preparation:
Cook the pasta according to our custom.
While you finish cooking the pasta in water with a little salt, peel the prawns and we passed the hot iron and with a little touch of extra virgin olive oil. We left a few heads on the plate for garnish dishes.
We drain the pasta and serve on plates.
We ended up grilling the prawns.
On the freshly cooked pasta put a generous amount of organic romesco sauce.
About the sauce put a few shrimp and a head to decorate.
Extracted and adapted from: http://ow.ly/BYFvZ
For us the concept of ravioli is always linked to a starter or main course, but in Italy even get to use as desserts. In this case we suggest you do so as dessert stuffed with our organic orange marmalade.
Ingredients:
Preparation:
Make stuffing with pine nuts, a half tablespoon of honey and organic orange marmalade until uniform.
Using a brown plate as a template cut the dough into circles that will deposit on a plate with flour. If one is engaged and is a hole, we can cover with the remaining pasta. How only remaining cuts can recycle the pulp to make new ravioli.
To make the 'sealing' end will each circle over a floured wood filler deposited portion and closed so that the final shape is a semicircle. We can also do it using two circles with the filling between the two and in this case the shape will be circular.
To close them, get wet finger to the outer rim of the circle why locks. With the help of a fork will seal the two sheets.
We put the ravioli in a glass container we oiled previously and finish "paint" using a brush made with paper towels, the top of the ravioli with a beaten egg (as if we were to make an omelet). Finally we will put the furnace and heated to 180 º have I turned up and down.
How is golden brown (about 20 min) let cool and we can serve.
To decorate you can put the chocolate black erasure over ravioli.
How to make pasta
Ingredients:

Preparation:

We will put the flour in a large bowl and make a small crater in the central part where we'll take the eggs. First one and stir and detached another and continue stirring. While we are mixing the flour is adding to the dough and rest the bottom of the bowl and is not engaged, which will ultimately spare. After about three minutes, the mixture deposited above the marble kitchen that have been coated with flour.
It's time enharinarnos hands and start kneading. You have to get good too, silky and elastic. When we consider that is about (the operation takes about 15 minutes at a time just barely engages the fingers) put salt wrap it with a damp cloth and leave in a cool place to replace about 30 minutes (or refrigerator if necessary) before continuing.
Once the pasta is replaced, we put it on the floured marble flour and roll had previously also floured surface until a significant (there you go dusting with flour if we see that hooks) and you proceed to cut. The alternative way to do it is to have one of these machines with rollers, specific to iron, which in fact is the most comfortable way.
To cut it all depends on how we want. For we have too rectangular and circular problem, we can do it with a plate of coffee as mold cutting circles with the tip of a knife and depositing the parties on a plate with flour. If you are engaged or is a hole, we can cover it with leftover pasta. How only remaining cuts can recycle kneading the dough again.
But we roll, we can replace it with a bottle we'll have filled halfway with warm water.
Extracted from: http://ow.ly/yGws8
Photo: http://ow.ly/yGzt6
We present an easy recipe and I find it very flavorful with our organic romesco sauce.
Ingredients: 
350 g of noodles in the number 1 or 2 ( best number 1, which is more easily lifted )
1 squid
2 cloves of garlic
1 small onion
1 small green pepper
1 liter of fish stock
1 teaspoon paprika
extra virgin olive oil

salt
Preparation:
You put in a pot to fry the sweet paprika with a little oil for a few seconds.

Immediately you put the fish stock. Once start to boil reservadlo apart.

In a skillet put the rice to fry, slowly and with a splash of oil, whole garlic cloves, unpeeled. When ye blond, are removed.

Then, in the same oil you put the noodles and stir because you idlos evenly browned. A blond turn coladlos oil in a colander.

Recovered oil and fry noodles make a sauce with onion, pepper and chopped small squid. When the sauce is browned, you add the noodles and toss the hot fish broth. The fire boil 5 minutes and then put another 7 minutes in the oven, because the noodles remain very rights.

Served with a little organic romesco sauce.
Extracted from: http://ow.ly/xfSMS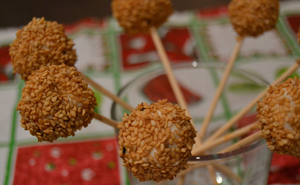 Today we present a snack shaped lollipop, does not require the oven and has two very attractive features : cabara cheese and organic spicy tomatoes marmalade, which gives it that special touch.
Ingredients (for about 12 lollipops):
An entire section of goat cheese ( about 12 centímetors long)
Sesame seeds
12 skewer sticks
Preparation:
Remove the skin or bark of goat cheese and we were inside.
On a clean flat superificie , the knead a little and then, with hands, make small balls go about 2 inches in diameter.
We put them on a tray, covered with plastic wrap, and put them in the freezer for a while. Half an hour will be enough, just because it stay compact and do not break when riding.
Once out of the freezer, gently pinning the 'll skewer sticks
Then put the jam in a glass (or use the same boat ) and we dipped the balls one at a time, ensuring that they are heavily covered with jam.
Finally the rebozamos with sesame, we have on a plate.
We place the skewers on a fixed support (eg full of stones or coarse salt test) or put them in a glass. We keep in the refrigerator until just before serving.
Extracted from: http://ow.ly/wJmX1