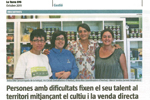 On October 2011 the magazine Terra published an article about  HORTUS APRODISCAe in its section on initiatives.
This article talks about the goals of this  project agroecological and high quality, while promoting social values.
Original PDF below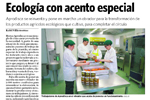 On January 16, 2011 Hortus APRODISCAe appeared in the Diari de Tarragona (a local newspaper).
"Ecology with special emphasis" talks about strategic change was proposed in Aprodisca and led the company to start the project Hortus APRODISCAe.
Get the PDF document below: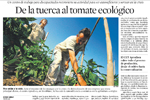 On 21 August 2009 Hortus APRODISCAe appeared in "La Vanguardia" .
"From the screw to the organic tomato" article speaks  strategic change that Aprodisca had to lead off in order to boost the Project Hortus APRODISCAe.
The original PDF below: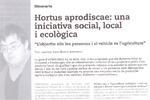 Agrocultura, the journal of organic farming and agroecology, published in Issue 41 of the magazine (a publication of the summer of 2010) article "Hortus Aprodiscae: a social initiative, local and organic." In this article we talk about the birth of our project, as well as discuss the philosophy and objectives.
the PDF document below:
On 13 March 2009, the NOVA CONCA Weekly published the article "Agriculture, food and a commitment to organic food and in the future." In this article we talk about the values underlying the project Hortus APRODISCAe: territorial, environmental and social.
the original PDF document below: