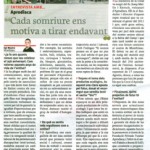 Today has gone an interview published on the back cover of the local newspaper "Nova Conca" talking about the 25 years of the company and also on organic farming HORTUS our project.
Hortus Aprodiscae project has been honoured with a special mention at the awards "Eco-eLabora-SEAE" to the generation and dissemination of knowledge, innovation in industry and ecological development,  business model and social integration.
The Spanish Society of Organic Agriculture (SEAE) will celebrate its 20th anniversary this year from the 26th to 29th of September and it will take place in Albacete at its biannual Congress X. Dedicated to promoting  organic production and farming  under the theme "Resilience, innovation, competitiveness and efficiency from Agroecology ".
The awards will be given during the ceremony at its first edition "Eco-eLabora-SEAE" the generation, management and dissemination of knowledge and innovation in agroecology and organic production. These awards recognize those individuals or entities who contribute to agribusiness model and agro management that combines quality food production and natural resource conservation, considering agriculture and organic farming as a key driver for the challenges the sector faces such as the conservation and enhancement of biodiversity, mitigation / adaptation to climate change, water scarcity and sustainable rural and landscape development.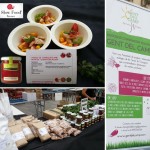 On Tuesday, September 18 from 12 noon to 12 midnight at Plaza del Rei Tarragona, held the official presentation of the SLOW FOOD TARRACO movement in "Santa Teca 2012" a gastronomic journey with artisanal and local organic products. You will find a careful selection of the best food products of Tarragona, where there where workshops on cooking, products tasting, sustainable information, music and performances.
The Association it is formed by small organic farmers, artisans, chefs and people related to the
slow food
movement concerned about natural and healthy eating.
HORTUS APRODISCAe
is member of the 
Associació Ecològica Gent del Camp
, a group of ecological farmers and processors of Tarragona who have joined forces to continue working for the local agriculture, supporting agroecology in our region with values as cooperation, equality and solidarity.
Restorers group TARRACO SLOW FOOD delighted us with some tastings made with organic products and one of them used our organic spicy tomatoes marmalade ECO Hortus.
The magazine's CUINA in June talks about Hortus Aprodiscae with this article "An ecological treasure in the medieval town."
We want to thank to CUINA this beautiful article and share it with you.
We give you access to the full article: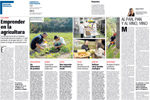 On April 29 Agrosocial Network sponsored by the Catalunya Caixa Welfare returned to the headlines in La Vanguardia.
This social network is formed by different agricultural companies and associations that have their social framework in rural . Currently comprises 23 organizations, including Aprodisca with its agro-ecological project Hortus APRODISCAe.
This network serves to create synergies and linkages between the various entities that form and also provide expertise and funding lis, thus promoting the growth of new social entrepreneurs and the consolidation of existing ones.
There you will find a picture of the workshop Hortus Aprodiscae.