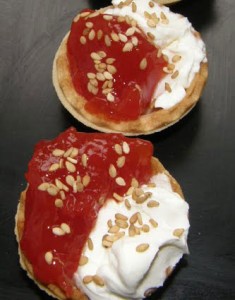 We present a dish to make a pica pica, good, very simple and very colorful with our organic spicy tomatoes marmalade.
Ingredients:
Tartlets

Philadelphia cream cheese type

Sesame
Preparation:
Each tart put a teaspoon of cheese and organic spicy tomatoe marmalade.

Ending slightly above sesame.
Extrated from: http://www.lestevesreceptes.cat/click/index/891156/?site=crijoarmael.blogspot.com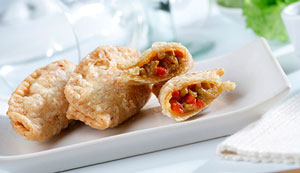 We present a very delicate dumplings made ​​with our organic white onion "sofrito".
Ingredients for 4 people:
16 Wafers for dumplings
100 g of tomato sauce
1 red pepper
100 g pitted green olives
Preparation:
Wash and peel the peppers and chop the olives. Heat the oil in the pan and sauté the peppers, when tender add the olives, stir and finally add the tomato sauce and organic whit onion "sofrito".

We extend the wafers on a floured surface and place in the center of each portion of dough a bit of previous fill, fold the dough in half so that it is a crescent, and join the edges.

We place the dumplings on lightly oiled baking tray and cook at 180 ° C for 20 minutes. You can also fry, instead of cooking in the oven.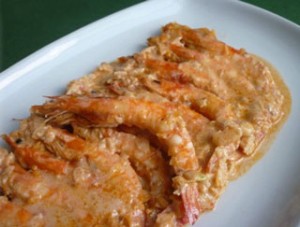 Here is a dish with prawns is great with our organic romesco sauce. What will you do in a moment.
Ingredients:
Preparation:
Put the oil to the pan and fry 2 cloves of garlic. 

Then , with the same oil, fry the prawns and fry the chopped onion.

Once golden, we add the two tablespoons of tomato and leave it for a minute. Add the water to the tomato and onion and leave to boil .

When boiling , we put the prawns and leave them to cook until they have absorbed much of the water .
We left replenish .
Then put the organic romesco sauce and turn to leave replenish a while. We put everything on a tray ready to put it in the oven with the grill. Let it broil without curdling at all.