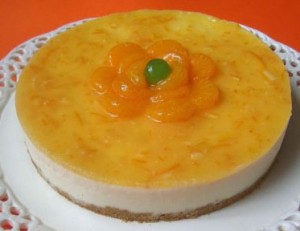 You like candy? Then we present a very simple cheesecake make with organic orange marmalade.
Ingredients:
For the  base:
Graham crackers 125g
60g margarine
For de cake:
100 g of orange juice (they are one or two pieces of fruit)
500 g of cream cheese
3 tablespoons ( about 100 g ) organic orange marmalade HORTUS
4 sheets of gelatin
3 tablespoons sugar ( 2 tablespoons fructose)
Milk 100 g
Preparation:
The base:
Crush cookies progressive 5-10 . Add the margarine at room temperature and spray again to see much involved.
Place the ring mold on the tray where we will serve and smash into biscuit mix , lining the base.
Reserve in the freezer while preparing the cake.
The cake:
In a deep dish with water, let the gelatin sheets items to soak for 5 minutes , because they hydrate.
Squeeze orange juice and heat about a minute in the microwave , do not boil . Toss the drained gelatine leaves and stir until completely dissolved.
In a bowl put the cheese , milk , fructose , and jam , mix all the blender and then pour the orange juice with gelatin, and stir .
We took the base we had reserved in the freezer and toss the mixture inside. Leaving replaced in the freezer or refrigerator for several hours or better overnight .
Coverage:
Once curd, we can decorate to our taste, along with some mandarin orange slices in syrup or marmalade use the other we have left in the pot , mixed with a sheet of gelatin , dissolved in two tablespoons of hot water. And replacing it in the fridge until it hardens coverage.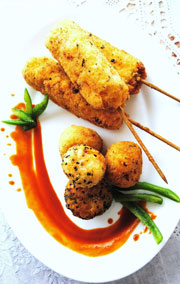 We present a recipe very easy and economical, look how is with organic spicy tomatoes marmalade.
Ingredients:
250 g rice
100 g diced ham
1/2 red pepper and 1/2 Yellow
Media onions
2 eggs
flour
breadcrumbs
Black sesam (optional)
Salt and pepper
Preparation:
Cook the rice and let it pass the point just cooked so that it is softer than normal. It's best to use a pump-type rice but if not equal worth us others except parboiled rice, as we would with a completely different texture.
Then let cool strain the rice, this recipe can be made with rice remains that we have been the day before.
Incorporate in a bowl with rice, diced ham, peppers and onions. Mix everything well, season and add the egg, mix and keep adding flour to go into a mass that can be worked with your hands.
Form balls for round croquettes and roll in bread with black sesame for remaining batter.
For the skewers, place a large amount of rice to the beads on one end of a stick and go broché pressing the rice to make it in the shape you see in the picture, then batter with bread crumbs.
Fry the croquettes as both skewers in hot oil until golden.